New era for Mazda as its first plug-in hybrid takes on rivals
According to Mazda executives, the CX-60 packs 100 years of experience into its quality contender in the battle for a share of the growing plug-in market
---
Fact file
Brand: Mazda
Model: CX-60
Fuel: Petrol/Plug-in Hybrid
0-62mph (secs): 5.8
Range (WLTP miles): 39 electric-only
Battery (kWh): 17.8kWh
Want to drive this car? Contact the Reflex team!
Overview
The CX-60 is Mazda's first plug-in hybrid and, according to its executives, represents everything the brand has achieved over the past 100 years. It certainly needs to be at its best to compete in an increasingly competitive SUV PHEV segment against rivals ranging from the BMW X3 to the Peugeot 3008. With input from Japanese 'Takumi masters' to instil a sense of Jinba Ittai, or 'oneness of car and driver', this is a Mazda that aims to deliver a great experience for drivers and passengers alike.
Exterior
Despite its size, the CX-60 manages to look sporty, with a long bonnet and thin lights carved into the imposing grille. The cabin seems to sit further back on the body, which Mazda says is part of its Kodo design philosophy to provide a 'dynamic sense of movement'.
The 20-inch alloy wheels enhance its sharp looks, but at the rear things become more standard SUV, with a relatively flat rear providing a square boot opening. There are a couple of subtle badge references to the CX-60's PHEV underpinnings, but that hasn't stopped them fitting quad exhaust pipes to liven up the rear. They may not get much use if you maximise its electric drive potential, but they look great.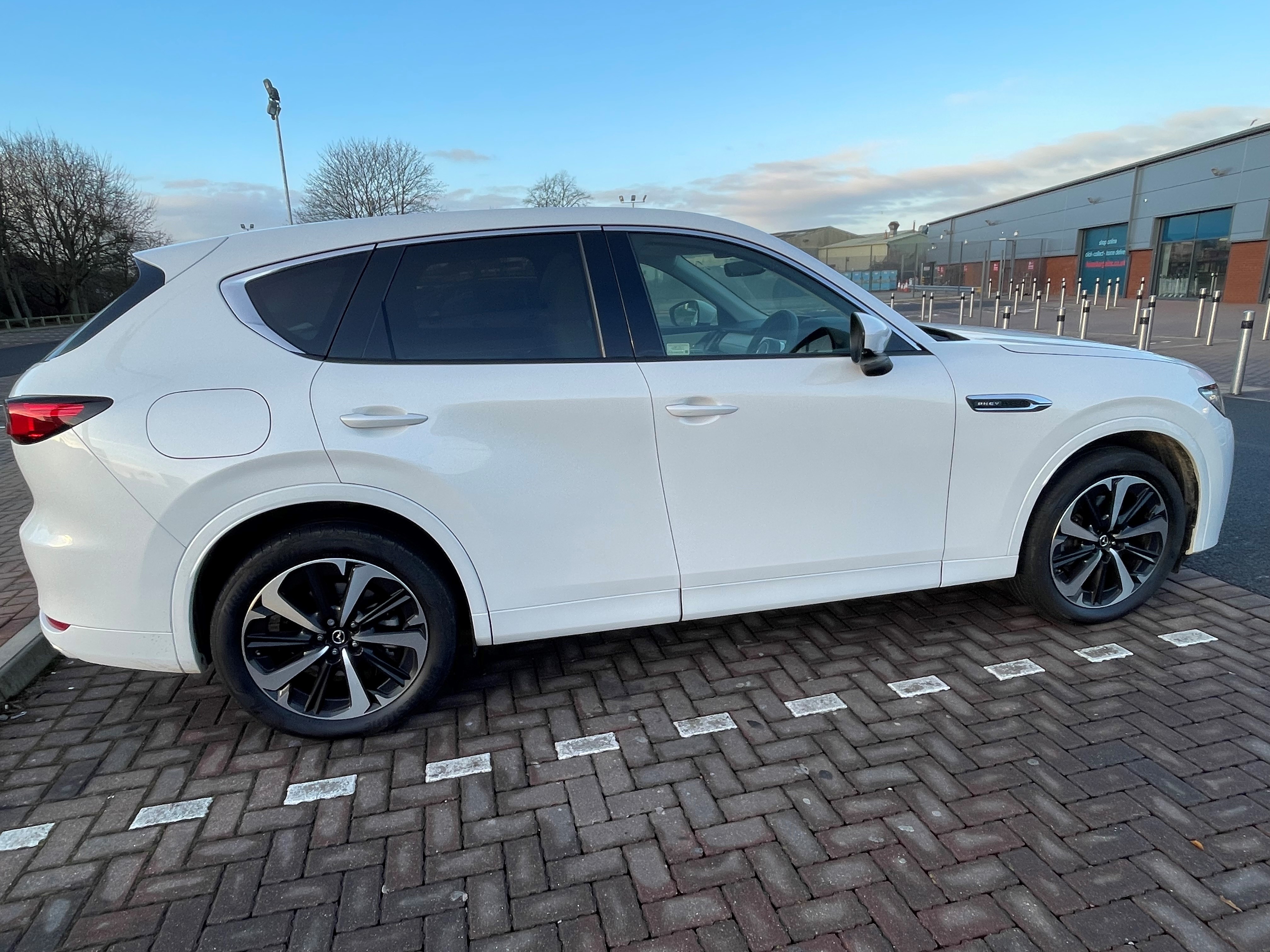 Interior
I love the high driving position in the CX-60 and the spacious cabin, with a panoramic sunroof pouring in light. However, I am not a fan of the woven fabric on the dashboard of the Takumi variant I tested, which felt a bit old, or the white Nappa leather-clad seats, simply because it would show dirt too easily. I would choose a darker shade, but in terms of overall comfort it was excellent and had a high-quality finish. The interior lighting is also particularly good, including in the footwell, with puddle lights to shine on the ground when the doors are open. Other welcome elements included dual climate control, as I tend to prefer a cold setting and my partner likes the car to be hotter. Talking of which, the heated steering wheel was welcome, although it seemed to only warm either side and leave the top and bottom cold.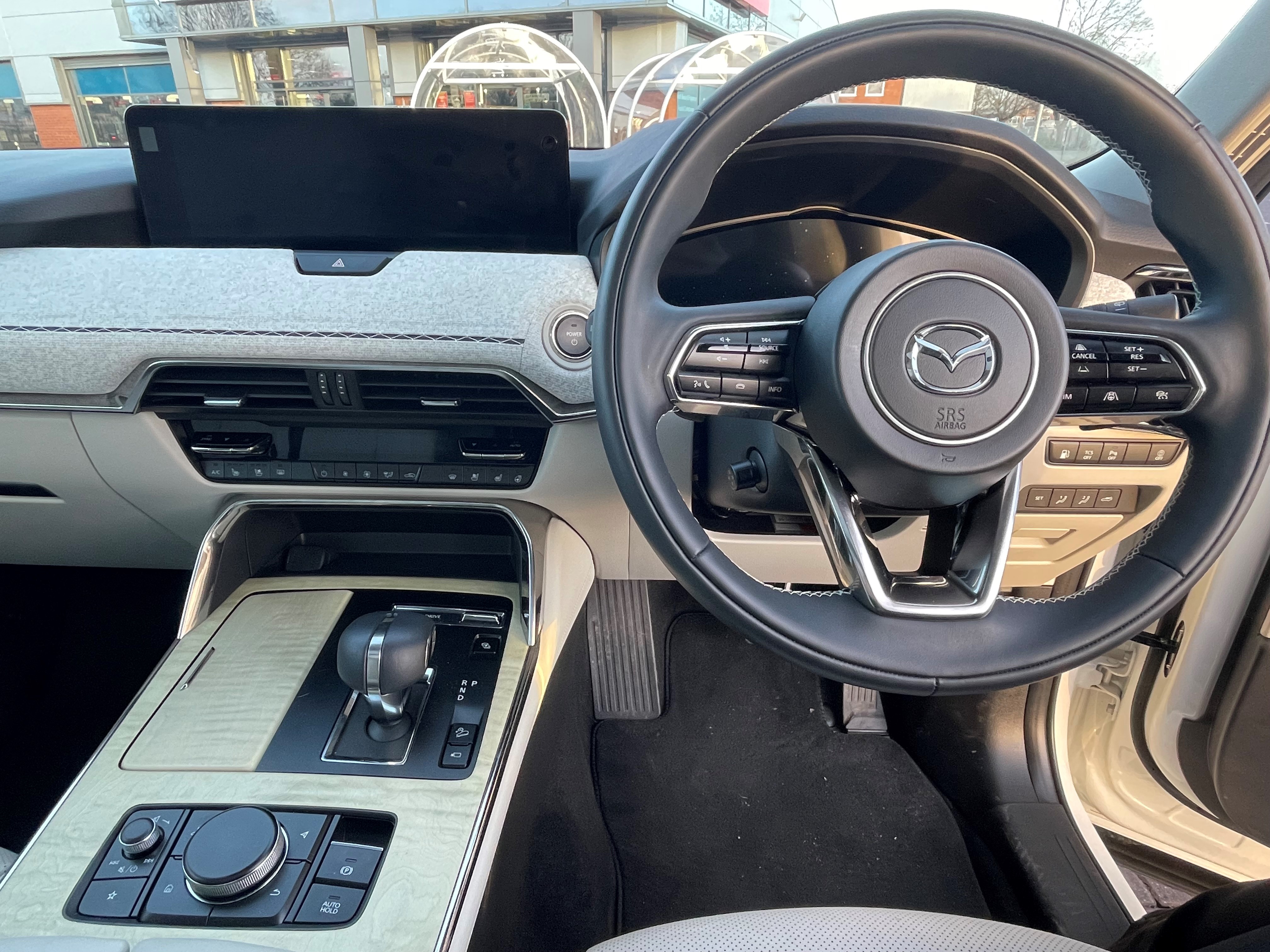 Practicality
As the biggest model in the Mazda range, there is plenty of room inside for driver and passengers both front and back. There is lots of boot space too, ranging from 477 litres with the seats up to just over 1,700 with them folded. For added flexibility the rear seats fold individually, so the middle one can be lowered for long items and still accommodate two rear passengers.
Driving
I like the lofty driving position of SUVs and the CX-60 felt particularly high. Despite this, I found it easy to manoeuvre. It had an impressive turning circle and was easy to slot into parking spaces. The very smooth eight-speed automatic gearbox provides seamless progress. The CX-60 includes nice features, such as blind spot warning lights on the wing mirrors, which come in very useful as the car's large pillars sometimes obstructed my view.
The excellent chassis grips well on winding country roads, but the downside is a slightly harsh ride over bumps and speed bumps, which is surprising considering how tall the car is.
There are several driving modes, including Towing (it can haul 2.5 tonnes), Off-road and EV, which keeps the engine off for as long as the battery has enough power.
The combination of petrol and electric power works seamlessly through the automatic gearbox, although the electric-only range was lower than I expected. Officially it offers 39 miles of emission-free driving, but I drained the battery in half that distance. This could have been down to my use of the air conditioning, but it meant the 2.5-litre petrol engine came into play earlier than expected in my journey, which would eat into the official economy figure of 188mpg. Regular charging from a home wall box takes around two hours. It isn't set up to take a fast charge, so choose public charging points carefully.
If this car was mainly used for short commutes and local journeys, a 100-plus mpg figure could be achievable in the long-term. In the unlikely event you hit the magic 188mpg average, then each 50-litre tank of petrol would last more than 2,000 miles.
Technology
There is a clear dual-screen display in the CX-60, with an instrument cluster and a central 12.3-inch screen that features all the tech you would expect, including Apple Car Play and Android Auto. You also get five-years of free map updates for the sat-nav.
Everything is crisp, clear and easy to use, while frequently used items, such as heater controls, are physical dials and buttons.
There is lots of driver assistance, with notifications on the instrument panel, while a head-up display provides plenty of useful information without the driver taking their eyes off the road.
It would have been good if the central screen was a touchscreen in this highest specification model, while I found the wireless charging to be temperamental.
Summary
I loved the height of the car and that it was close to silent on the road when driving. This is a huge positive for me because I find road noise tiring, especially on long journeys.
Although I felt the suspension could have been better for the type of car, and that the non-touchscreen element was a downside, for a driver with the right mileage profile it is a worthy rival to premium brands as a first step to a fully-electric car.
Reflex rating
8/10
ROAD TESTER PROFILE
Name: Sasha Stuart
Role: Brand Marketing Manager
Model tested: Mazda CX-60 2.5 PHEV Takumi
Motoring likes: Motorway driving, automatic cars, late night drives with music playing
Motoring dislikes: Drivers who don't use their indicators, driving at night on winding country roads
Dream car: Mercedes-Benz G-Class
Find out more
Find out how Reflex Vehicle Hire can help your company.
Call 0330 460 9913 or visit our contact us page.