Skoda plugs in to an EV future with Enyaq SUV
Skoda's all-electric family car offers space and comfort in an award-winning package, with six national awards to date. Rory Morris, Reflex's Vehicle Remarketing Manager, puts the Lounge 60 version to the test to see if it deserves its award-winning reputation
---
Fact file
Brand: Skoda
Model: Enyaq
Fuel: Electric
0-62mph (secs): 8.4
Range (WLTP miles): 246
Battery (kWh): 58

Want to drive this car? Contact the Reflex team!
Overview
The Skoda Enyaq iV is the brand's first purpose-built EV that turns an SUV from Sport Utility Vehicle into Silent Utility Vehicle. Despite its EV underpinnings slashing emissions, it needs to retain all the qualities required to function as a family car. Six Car of the Year awards suggest Skoda has the right formula.
Exterior
As a large SUV, the Enyaq delivers a great deal of presence on the road. It still looks like an SUV despite the shift to pure electric power, but it also has a quite futuristic feel to it, without being outlandish. The bonnet is quite short, as there is no big petrol or diesel engine to accommodate, which leaves room for a longer passenger compartment. I opted to upgrade the 19-inch wheels to 21-inches because they fill the arches a lot better, without having too much impact on the range. I also chose Graphite Grey exterior paint because it helps the dark plastic blend in.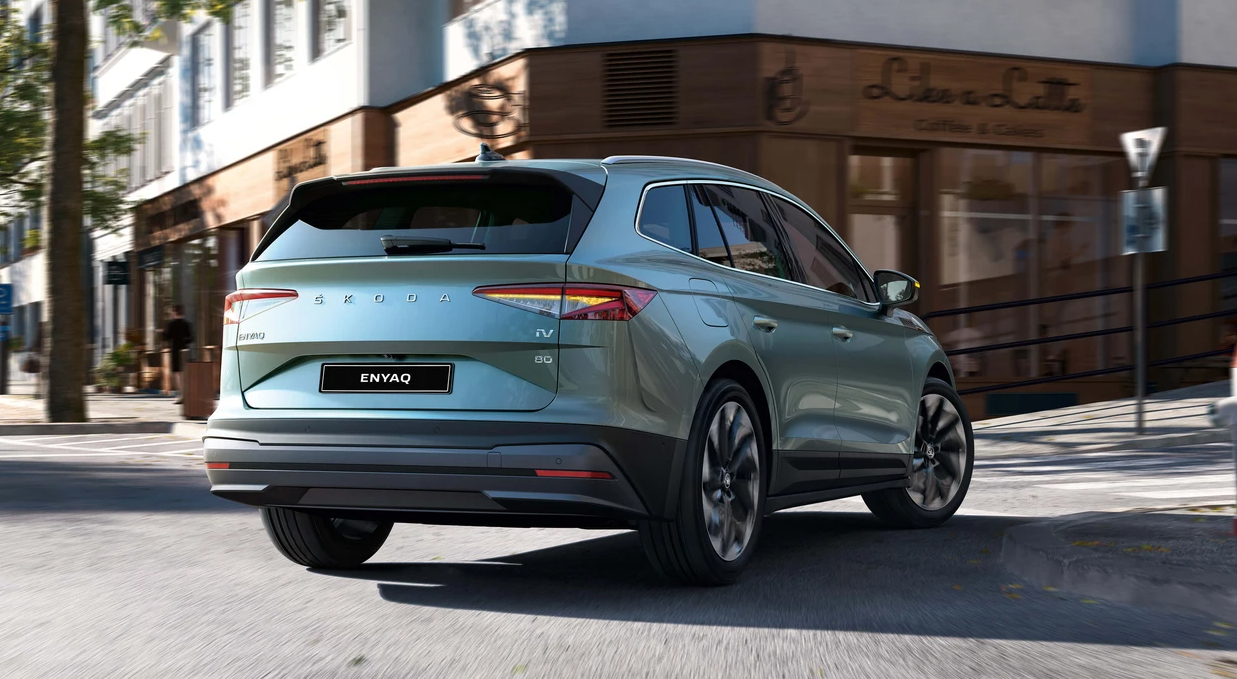 Interior
There is a quality finish to the interior that gives the Enyaq a feeling of solidity that reflects its SUV origins. The interior layout is very different to my previous car (a Mercedes-Benz A-Class) as the infotainment screen is much larger in the Skoda. The gearlever has also been reduced to a small selector that is barely bigger than the electric handbrake button. I opted to upgrade the interior to Lounge specification, which features upholstery with a combination of leather and microfibre with a soft suede finish, complemented with mustard stitching that is really attractive. The package also adds microfibre material on the dashboard and fabric door inserts. There is lots of space both front and rear thanks to the Enyaq's clever packaging, which is ideal for a growing family.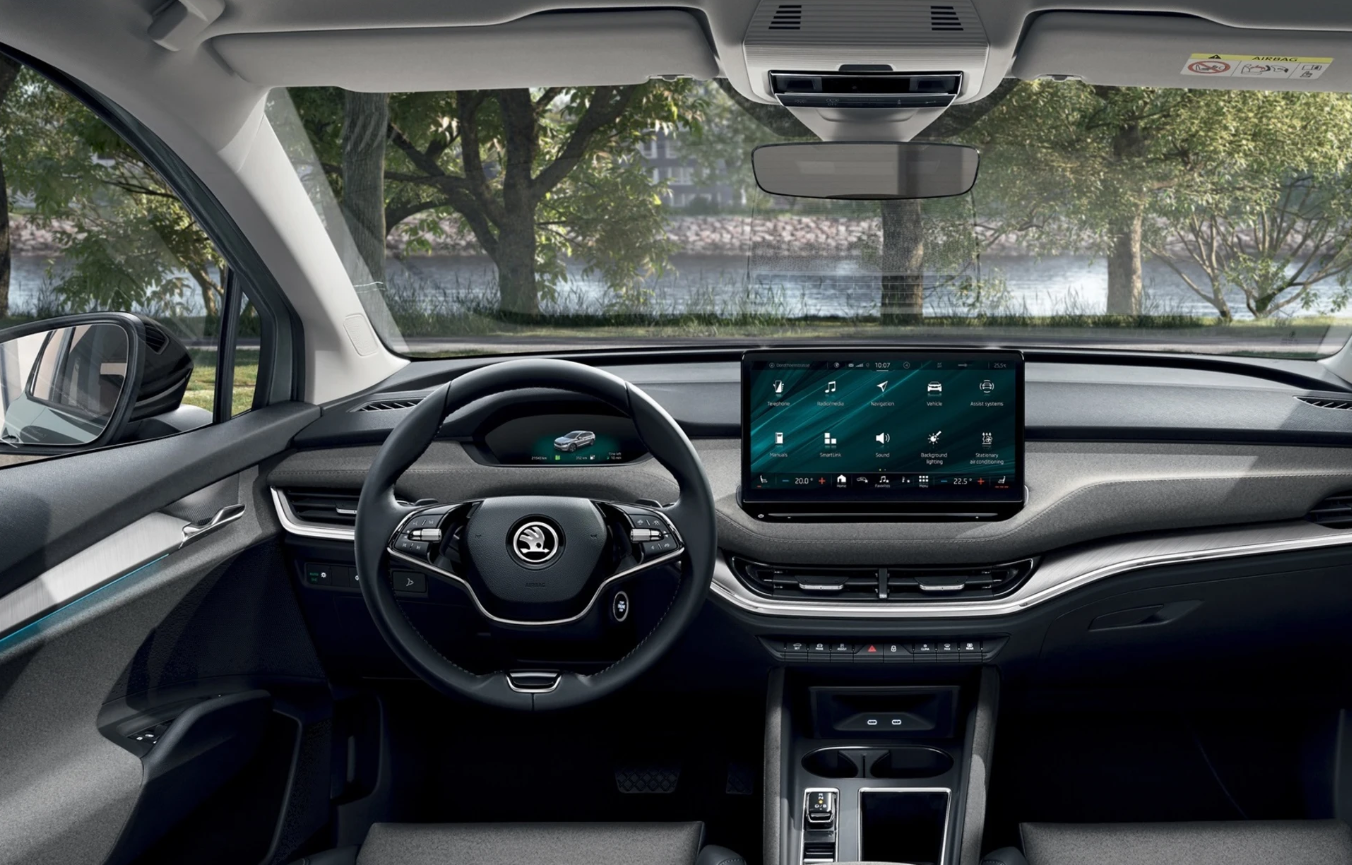 Practicality
With two small children, space is a key feature I look for in a vehicle. The Enyaq has plenty, both in the cabin and the boot. Its cargo capacity extends from around 600 litres with the seats up to 1,710 litres with them folded. A wide opening tailgate makes it easy to load over a low sill, which more than makes up for the lack of a 'frunk'. There are loads of optional extras packages to choose from, and the choice becomes more extensive the further you go up the range, so it's worth taking time to browse. One of the benefits of an electric vehicle is minimal servicing requirements. Skoda specifies an inspection once every two years, where they will renew the pollen filter and brake fluid.
Driving
I like to drive and have a Nissan 350Z as my fun weekend transport, so I wasn't looking for performance from the Enyaq. Even so, my rear-wheel drive model is nippy and handles very well. Even with upgraded suspension it provides a smooth and supple ride, while the electric powertrain is extremely quiet.
The Enyaq 60 has a 58kWh battery, offering 238 miles range (down from an official 246 because of the larger wheels), but in my experience it only ever seems to charge to 199 miles. This may be down to the cold weather, so time will tell if I get the higher predicted range in future.
From a wall socket, it takes nine hours to charge, but public fast chargers can replenish the battery to 80% in as little as half an hour. The battery comes with an eight-year/100,000-mile warranty that provides a replacement if the usable battery level falls below 70%.
Technology
There is a large 13-inch touchscreen in the centre of the dashboard to control most vehicle functions and a digital instrument panel in front of the driver can be set to their preferences. Everything is easy to see and reach, although it would be good to have heating controls among the array of physical buttons on the dash. However, some specification is lacking, such as front parking sensors and a reversing camera, which are offered within a complex array of packages that are linked to which Enyaq variant you choose.
All the technology seems easy to use once you get used to it. The Bluetooth was a bit difficult to connect, but it all seems okay now. However, the infotainment screen has frozen on two occasions and remained unresponsive for the remainder of each journey, so that may require a trip to the dealer.
Skoda also offers a smartphone app so you can remotely check the car's state of charge, schedule charging periods and heat or cool the car.
Summary
I really like the Enyaq, particularly for its size and practicality; it's the perfect car for a family, offering a smart, robust interior and plenty of space for people and luggage. The low tax cost for company car drivers compared to a petrol or diesel model is another great benefit – and I haven't had to visit a petrol station in weeks. For the Lounge variant I drove, front parking sensors and a reversing camera would be welcome, along with fewer technical glitches and a bit more range, but overall it's a very good package for any family.

Reflex tester rating
9/10
For details on the wealth of vehicles available on flexible terms from Reflex Vehicle Hire, review our Vehicle Selection page or contact one of our expert team members.

Share to:
ROAD TESTER PROFILE
Name: Rory Morris
Role: Remarketing Manager
Model tested: Skoda Enyaq Lounge 60
Motoring likes: Open roads, B-roads, country drives
Motoring dislikes: Tailgaters, people who sit in the motorway fast lane at 60mph, people who don't indicate
Dream car: Toyota Supra / Nissan Skyline R34
Find out more
Find out how Reflex Vehicle Hire can help your company.
Call 0330 460 9913 or visit our contact us page.