Has Mazda gone far enough with the new MX-30?
When drivers choose EVs, they pay money for miles, often buying range they do not need and will not use very often. The new Mazda MX-30 aims to offer just the range required in an innovative package
---
FACT FILE
Brand: Mazda
Model: MX-30 SE-L Lux
Fuel: Electric
0-62 (secs): 9.7
Range (miles): 124
Battery (kWh): 35.5
Want to drive this car? Contact the Reflex Vehicle Hire team!
Overview
The new Mazda MX-30 is the brand's first foray into the world of electric vehicles and it is sure to spark debate. It takes a slightly different approach to many competitors, with an innovative design and a smaller battery that is focused on delivering all the range needed for your day-to-day motoring needs at a price to match internal combustion-engined alternatives.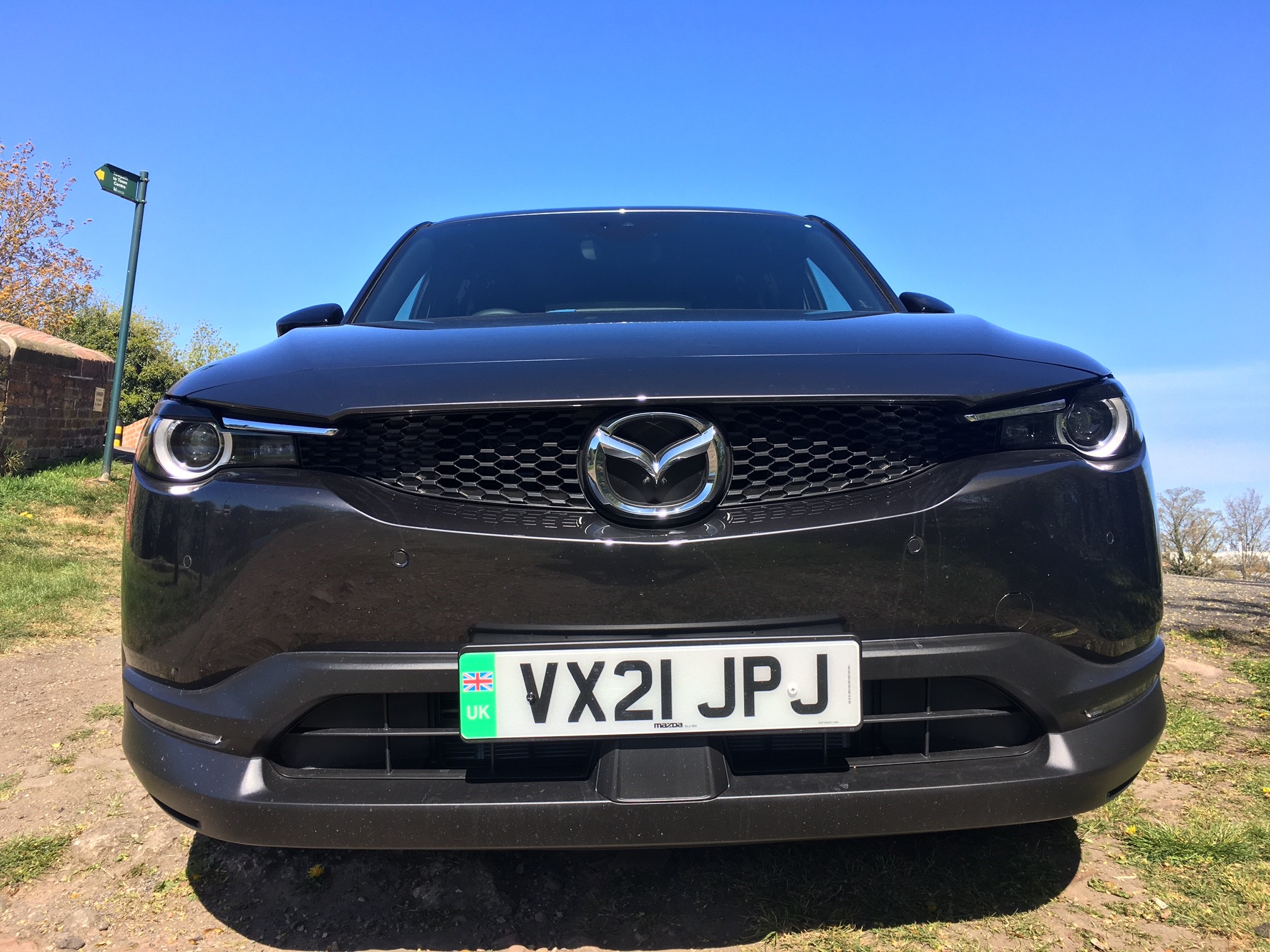 Exterior
The new MX-30 has a sharp and sleek looking nose which has a strong family resemblance to other models in the range, such as the CX-30 and CX-5. It has a silhouette that merges a crossover with a coupe, without being too outlandish; the subtle outline does its best to hide the pair of small rear doors to give it more of a sporting appearance. From the side, the space for the rear door looks tiny – and that is because it is. You also need to open the front door to release the rear latch and it can be an impractical arrangement in tight spaces as front and rear passengers are using the same gap to climb in. There is also not much room for adult rear passengers once inside.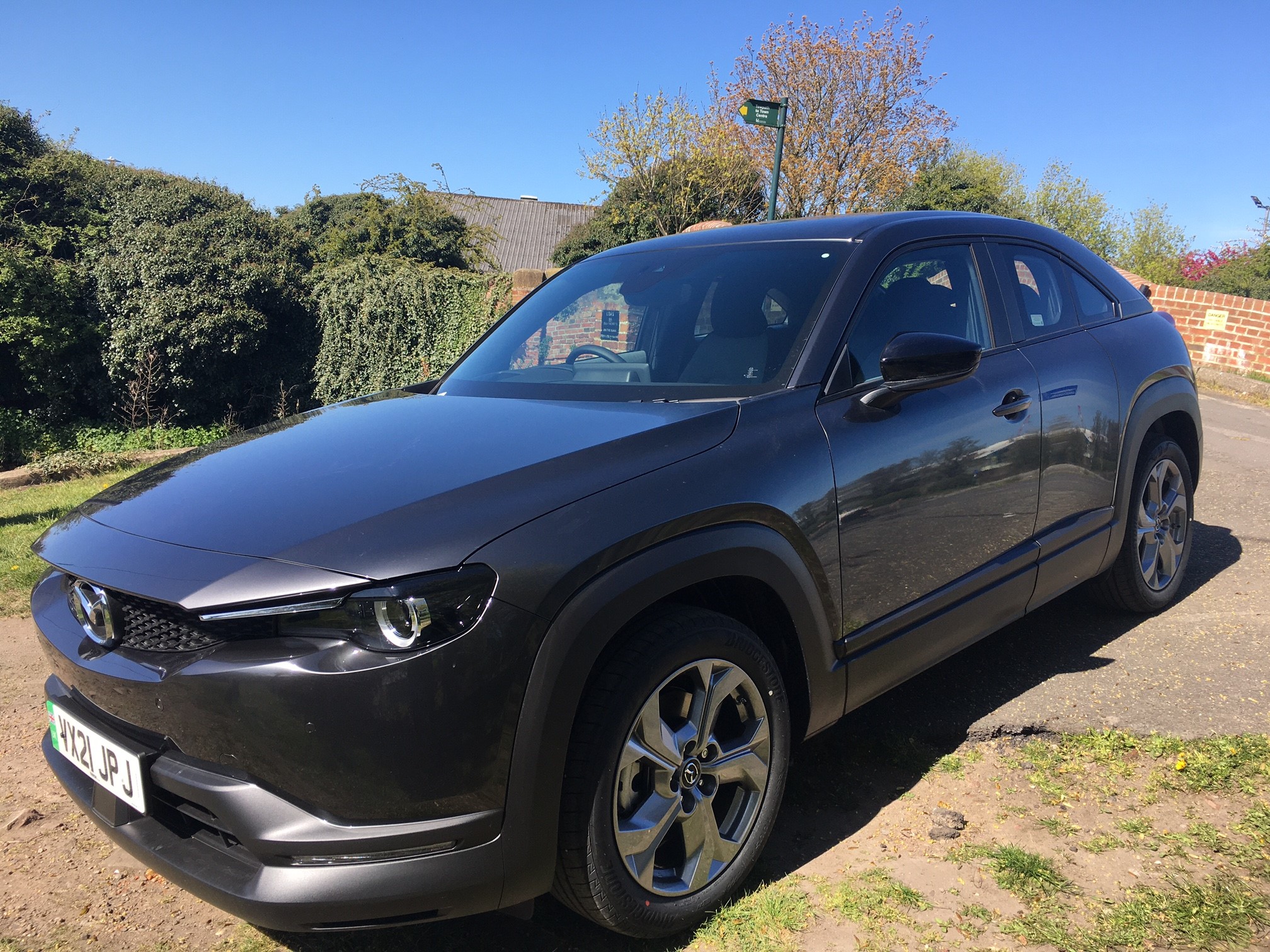 Interior
In the front, the centre console continues Mazda's commitment to innovative design in this car, with the gearstick and controls sitting on a plinth that leaves lots of room underneath for storage. There are also plenty of sustainable materials on show, such as cloth upholstery made partly from recycled fabrics and environmentally friendly cork lining for the centre console.
Quality levels are up to Mazda's high standards and everything is well put together with a premium feel, but overall, the mix of materials is strange, as they do not seem to complement each other as much as they could.
It is also lacking a few luxuries like heated seats and lumbar support, although the MX-30 provides a generally comfortable seating position.
There are two main screens, with one appearing from the centre of the dashboard and a second lower one; the driver's console is pleasingly simple, with a few dials providing essential information.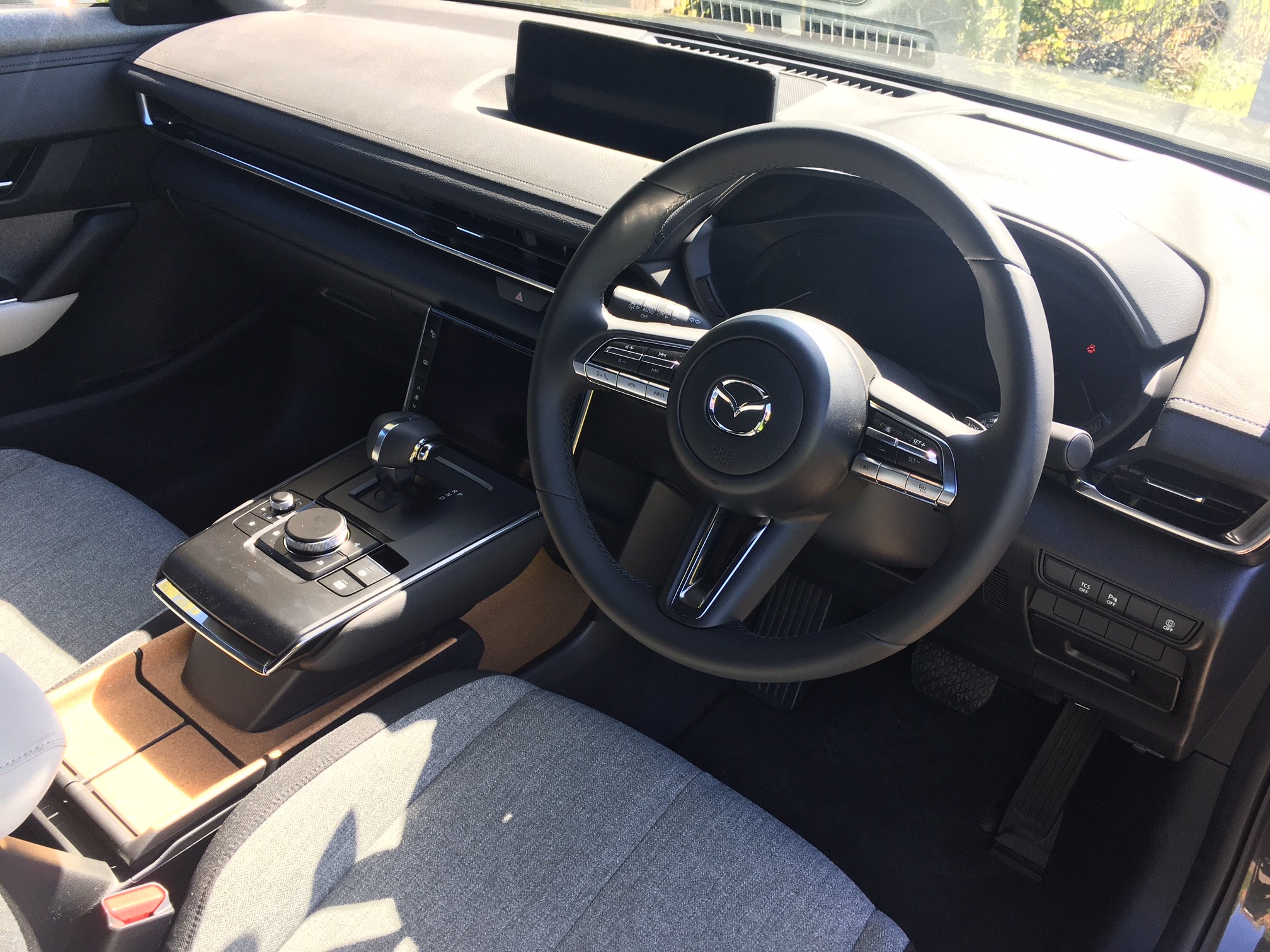 Practicality
There is plenty of stowage space, with two cupholders for front seat passengers and the rear boot is large enough to take bulky items, such as a pram, but adult passengers will feel squeezed in the rear seats, so they are best for small children.
Under the bonnet, the available space that holds an engine in some markets has not been adapted for storage, which would have been useful for carrying charging cables.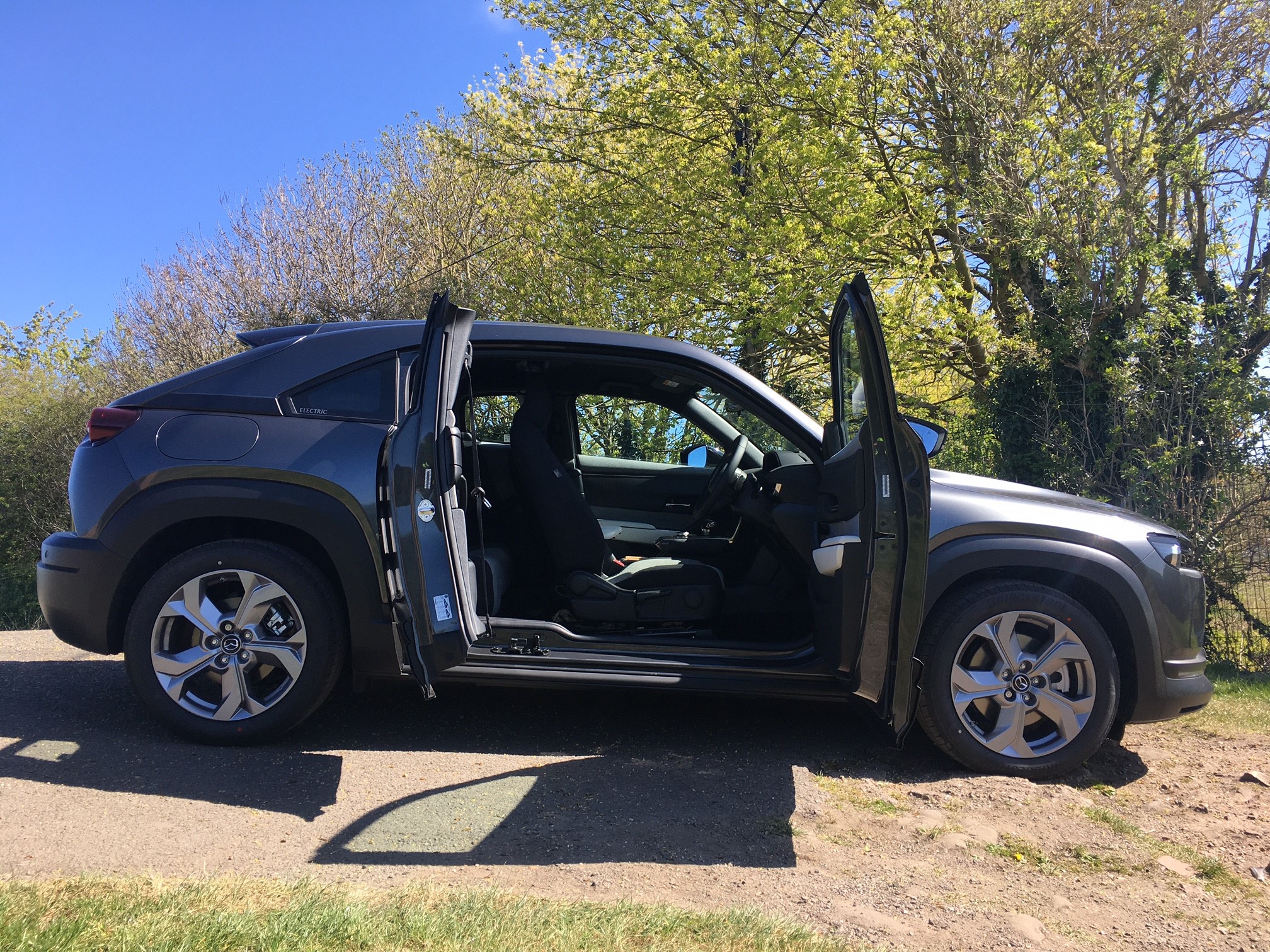 Driving
In terms of day-to-day driving, Mazda has focused on usable range rather than following the trend to ever larger batteries.
The average commute in the UK is 23 miles a day, so the Mazda's 124-mile range is more than enough for everyday needs. Unlike some rivals, the MX-30 can use rapid charging, so the battery can be filled to 80% in half an hour (from a home wall socket it takes about five hours).
This minimises charging times and brings a refuel closer to the experience of stopping for petrol or diesel.
The question is, with rivals targeting 200-300 miles, is a competitive price and adequate range from the Mazda sufficient to persuade people to choose this over EVs with bigger batteries? This is especially true as switching on the air conditioning reduces the distance you can cover by around 10 miles, effectively knocking 10% off your usable range.
On the road the MX-30 glides along, much like many of the other smooth-driving EVs available; acceleration is around a second slower than some volume rivals to 62mph at nearly 10 seconds, but it provides plenty of punch when overtaking.
You can use steering wheel paddles to change between five stages of energy recuperation, which can charge the battery under braking to add a few miles more range. It soon becomes second nature and encourages drivers to adopt a more efficient driving style that suits EVs.
If you are careful, you can eke out 4.2 miles for every kWh in the battery for town driving, but it drops to just over three on faster roads.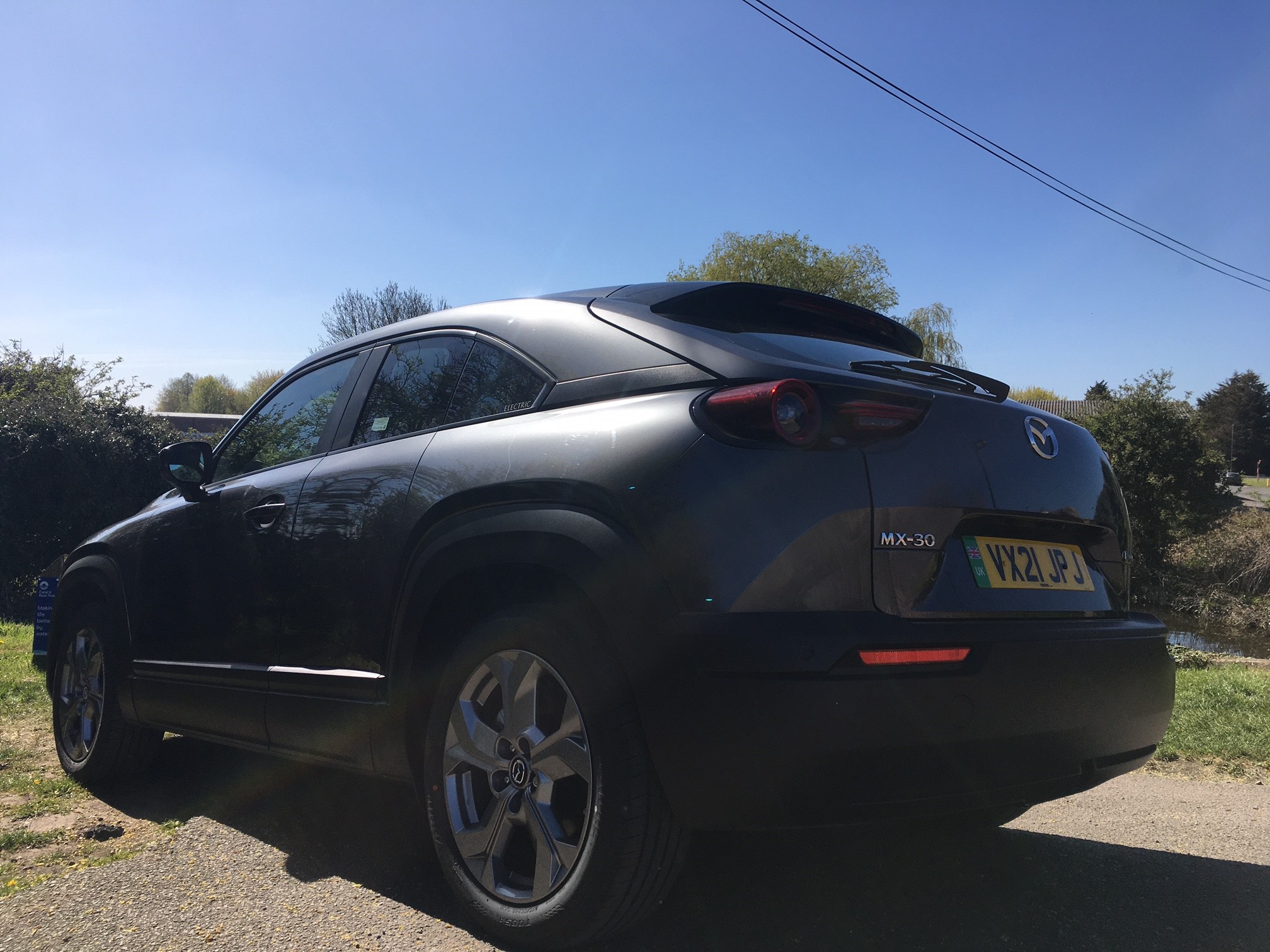 Technology
The MX-30 comes with several screens to control the car; the central multimedia display, including Android Auto and Apple CarPlay, is controlled by an intuitive rotary knob on the central console.
However, the positioning of the touchscreen for the climate control settings is compromised by the gearstick and makes access to charging points underneath a bit challenging.
There is also a wealth of hidden technology that won the MX-30 five stars in the EuroNCAP crash tests, including blindspot monitoring with rear cross-traffic alert to warn of oncoming vehicles as you reverse out of spaces, and driver attention alert, with some models able to monitor fatigue levels.
The MX-30 also features autonomous emergency braking in reverse to avoid hitting hidden objects.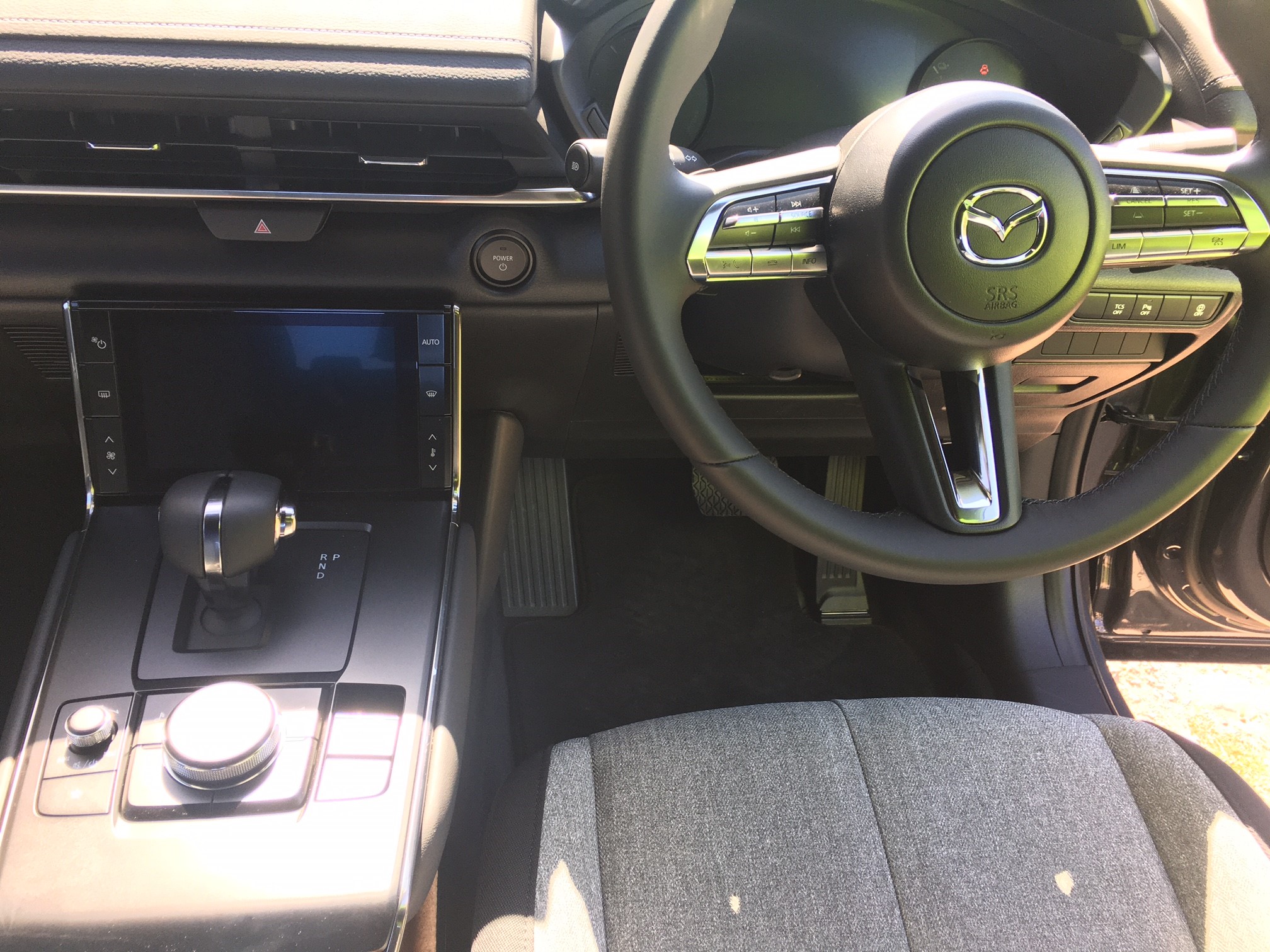 Summary
The Mazda MX-30 has the potential to really strike a chord with those who have a short commute and do not always carry many occupants. I can see the battery range being a hurdle for some buyers, but if you can see past it, you will discover a well presented, efficient, modern car which ticks the box for most requirements.
It strikes a balance between cost and range and is well built with a particular customer in mind. You will rarely need to worry about the relatively short 125-mile range, and although you might be recharging more often, it does not take long.
Reflex Rating: 6/10
For details on the wealth of vehicles available on flexible terms from Reflex Vehicle Hire, review our Vehicle Selection page or contact one of our expert team members.
Share to:
ROAD TESTER PROFILE
Name: Aaron Cawrey
Role: Vehicle Purchasing Manager
Model tested: Mazda MX-30 SE-L Lux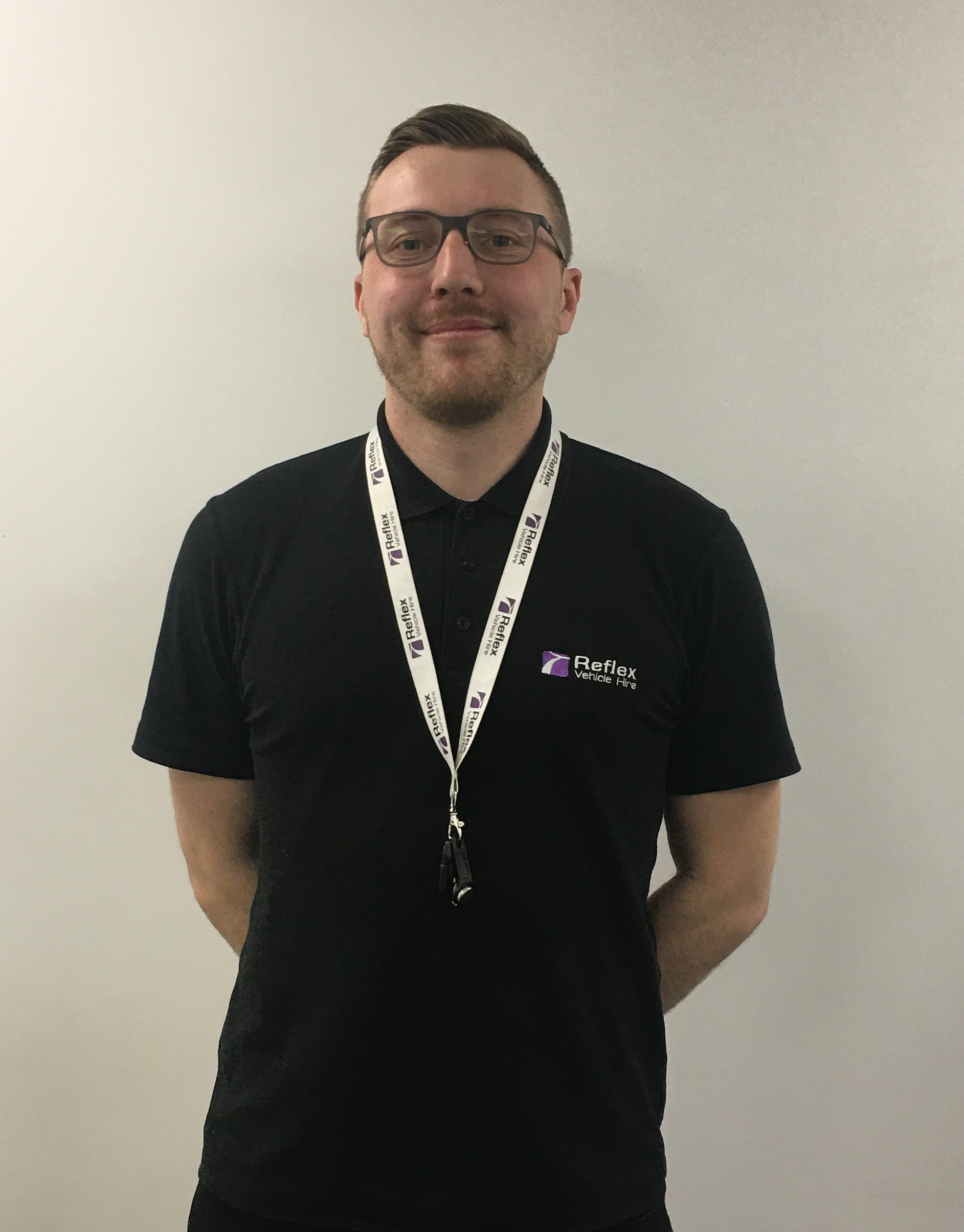 Find out more
Find out how Reflex Vehicle Hire can help your company.
Call 0330 460 9913 or visit our contact us page.