Volkswagen ID.3 set to become a new motoring icon
In a few years, the Volkswagen ID.3 will be as common a sight on UK roads as the iconic Golf is today. Aaron Cawrey, Reflex Vehicle Hire Purchasing Manager, takes to the road to sample the future of motoring
---
FACT FILE
Brand: Volkswagen
Model: ID.3 First Edition
Fuel: Electric
0-62 (secs): 7.3
Range (miles): 260
Overview
The Volkswagen ID.3 is the brand's new purpose-built electric car and the critical first step of a multi-billion-pound journey towards an emission-free range.
Its significance to the brand is equivalent to the launch of icons such as the Beetle or Golf as it underpins the future of the company, this time bringing zero-emission motoring to the masses; the ID.3 is the first in a family of electric cars that is already expanding with the unveiling of the ID.4 family car.
Volkswagen is working a special kind of magic with the new ID family, offering something distinctive and new that still has all the hallmarks of the brand established over generations, to encourage both new customers and loyal drivers to try zero-emission power for the first time.
Exterior
Having only caught passing glances of the vehicle whilst out and about up to now, it is only when you get up close to the ID.3 that you can really appreciate it. Some full EVs can fall victim to over-zealous design similar to a concept car, but the ID.3 strikes a great balance between the traditional Volkswagen look and a car of the future.
It has roughly the same footprint as the Golf and can essentially be pressed into the same role, as hard-working family transport, with a five-door hatchback design and space for five inside.
The bonnet is shorter than a traditional car, as there is no engine to accommodate, and the wheels are further into the corners, but ask anyone in the street what brand it is and they will immediately be able to tell; for such a different car, that is quite an achievement.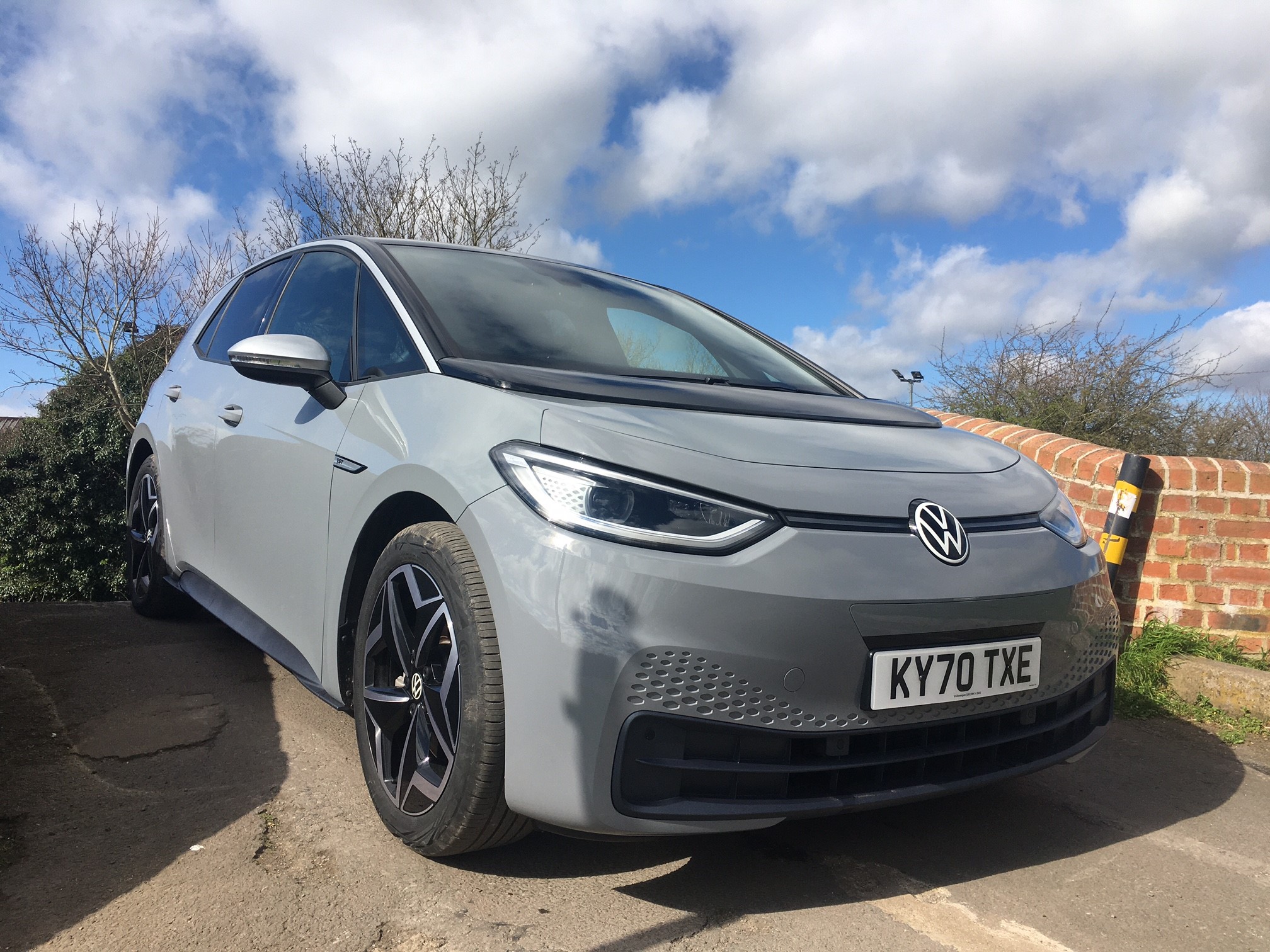 Interior
Once inside, Volkswagen has dispensed with its conservative styling and adopted a much more innovative approach. It is futuristic, yet playful, right down to the accelerator and brake pedal that have pause and play logos embossed on them. It is a statement of how Volkswagen has concentrated on simplifying innovation, so that drivers can quickly get used to a new mobility experience.
The stop/go theme extends to other controls. For example, the gear selector and handbrake are consolidated into a single, rotary steering column stalk. Turn it one way to go forward, turn the other way to go backwards, press a button to park. The control is part of an instrument binnacle that moves with the steering wheel as you adjust it, so the simple display is always in the right place. There is a lack of clutter in the digital readout, so you can concentrate on the road, not what the screen is saying.
A central 10-inch display contains all the car's entertainment systems and there are a few touch sensitive buttons underneath for key controls, which take a bit of getting used to.
The minimalist design frees up space in the car, but I could not help feeling some drivers may be seeking more sophistication – it needs to be an experience as much as an appliance.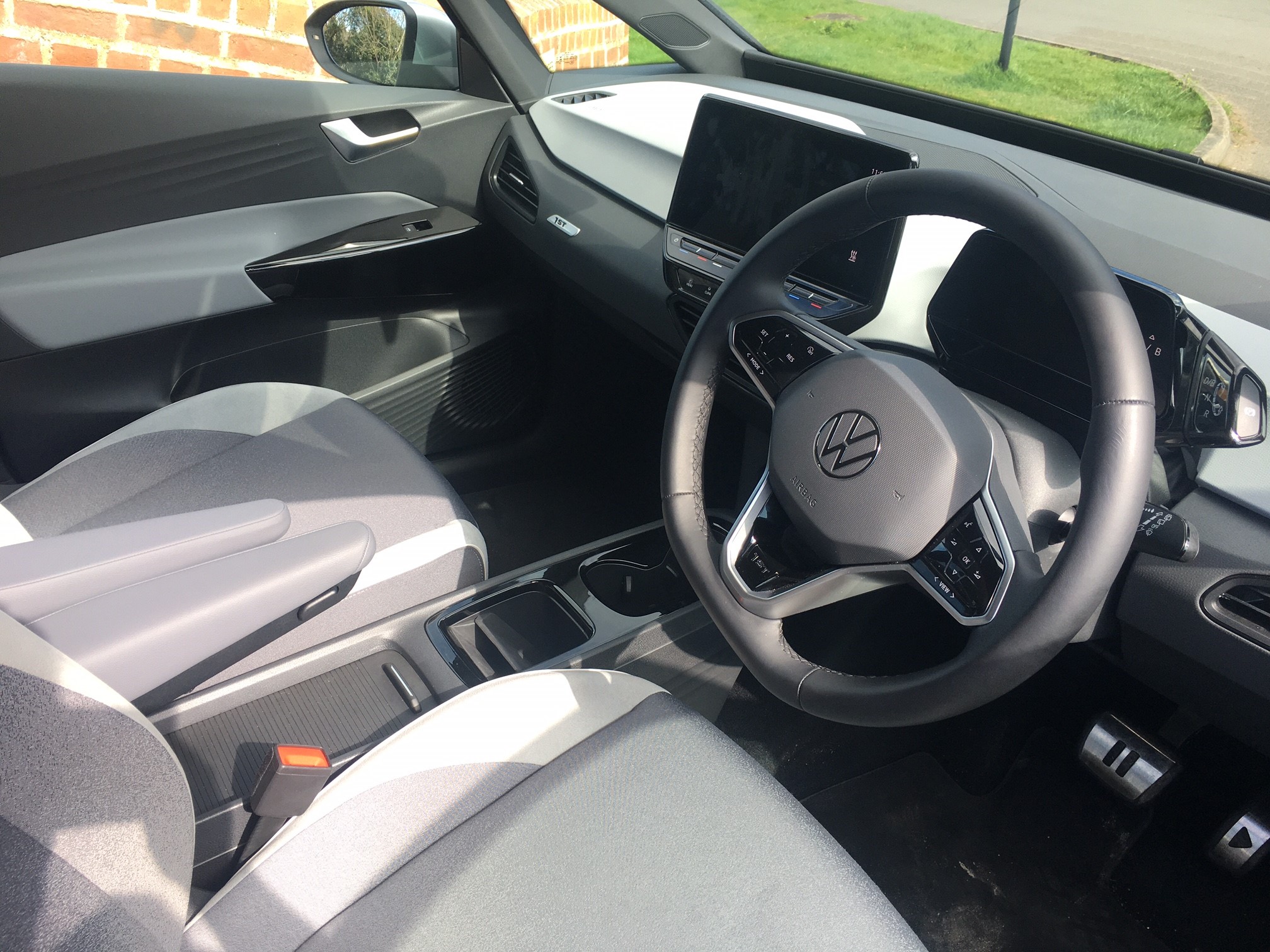 Practicality
One of the great benefits of an electric car is space. Without the numerous components of a petrol or diesel car and with the battery underneath the floor, there is room for passenger space to grow.
The electric motor is also neatly packaged away at the back, driving the rear wheels, meaning owners still get Golf-beating boot space.
There is lots of leg and headroom for all thanks to the totally flat floor and there is plenty of storage.
With the gearshift and handbrake relegated to a stalk by the driver, there is space between the front seats for two drinks holders, a phone/keys pouch and sizeable storage compartment with roll cover.
Digital devices are also well catered for front and rear, with several USB sockets, although you will require an adapter if you do not have the newer C format cables.
Driving
There are several power options available in the ID.3 range, based around a 58kWh or 77kWh battery pack and two motors, offering 145PS or 204PS.
The 58kWh pack offers around 260 miles of range per charge and it delivers close to that in the real-world, with an accurate gauge which inspires confidence and removes range anxiety. From fully charged, I achieved 228 miles, which seems plenty.
The car has a great driving feel; it was responsive and fun and seemed to glide along roads with ease and very little road noise.
Acceleration is not as rapid as, say, a Tesla, but it is fast enough to be fun when you want it to be, especially with the 204PS motor in the First Edition, and the ID.3 is more than a match for city traffic, with instant low-down power that rapidly adds pace up to motorway speeds. The low centre of gravity keeps it flat and composed through corners too.
Recharging from a 7.2Kwh wall box adds around 29 miles of range per hour, while the fastest public chargers can take the battery from empty to 80% in 30 minutes, which is close to the convenience of using a petrol pump.
Technology
The ID.3 is a hit and miss affair when it comes to technology. Notable features include ID Light, an illuminated strip just below the windscreen that uses colours and lighting patterns to provide information, such as sat-nav directions, approaching hazards, or an extremely useful indication of the car's charging status. The ID.3 also has voice control that responds to conversational instructions. For example, tell the car "It's hot" and it will turn the heating down.
The touch-sensitive buttons are less successful, as sometimes they can be slow to register your touch and other times you can accidentally press one when reaching for the touch screen.
There also seems to be a fair amount of menu diving within the vehicle's system. This is just a reflection of the increasing number of tools and services available to a driver, including monitoring energy usage and connecting to a mobile, but it means what you need is often several layers away in the system.
Summary
Overall, the car is great and further edges back the fears of range anxiety and practicality concerns typically associated with a full electric vehicle. Volkswagen has really set the benchmark for a car that fits seamlessly into the medium segment and can travel long distances.
There is also a substantial benefit-in-kind saving and Class 1 A National Insurance reduction compared to a petrol or diesel equivalent that means it requires serious consideration for company car drivers and managers, who may be surprised by this impressive car.
Reflex Rating: 7/10
For details on the wealth of vehicles available on flexible terms from Reflex Vehicle Hire, review our Vehicle Selection page or contact one of our expert team members.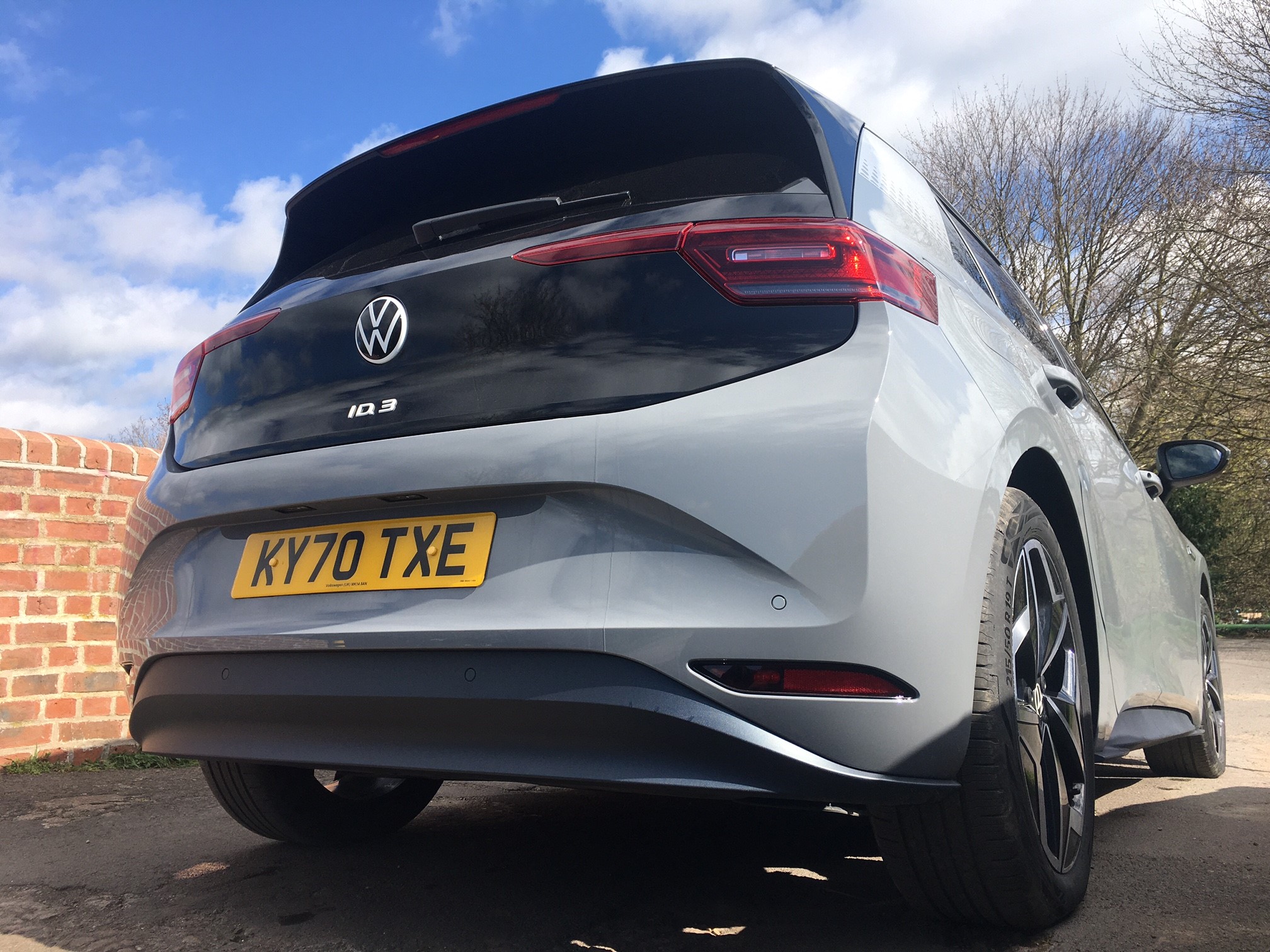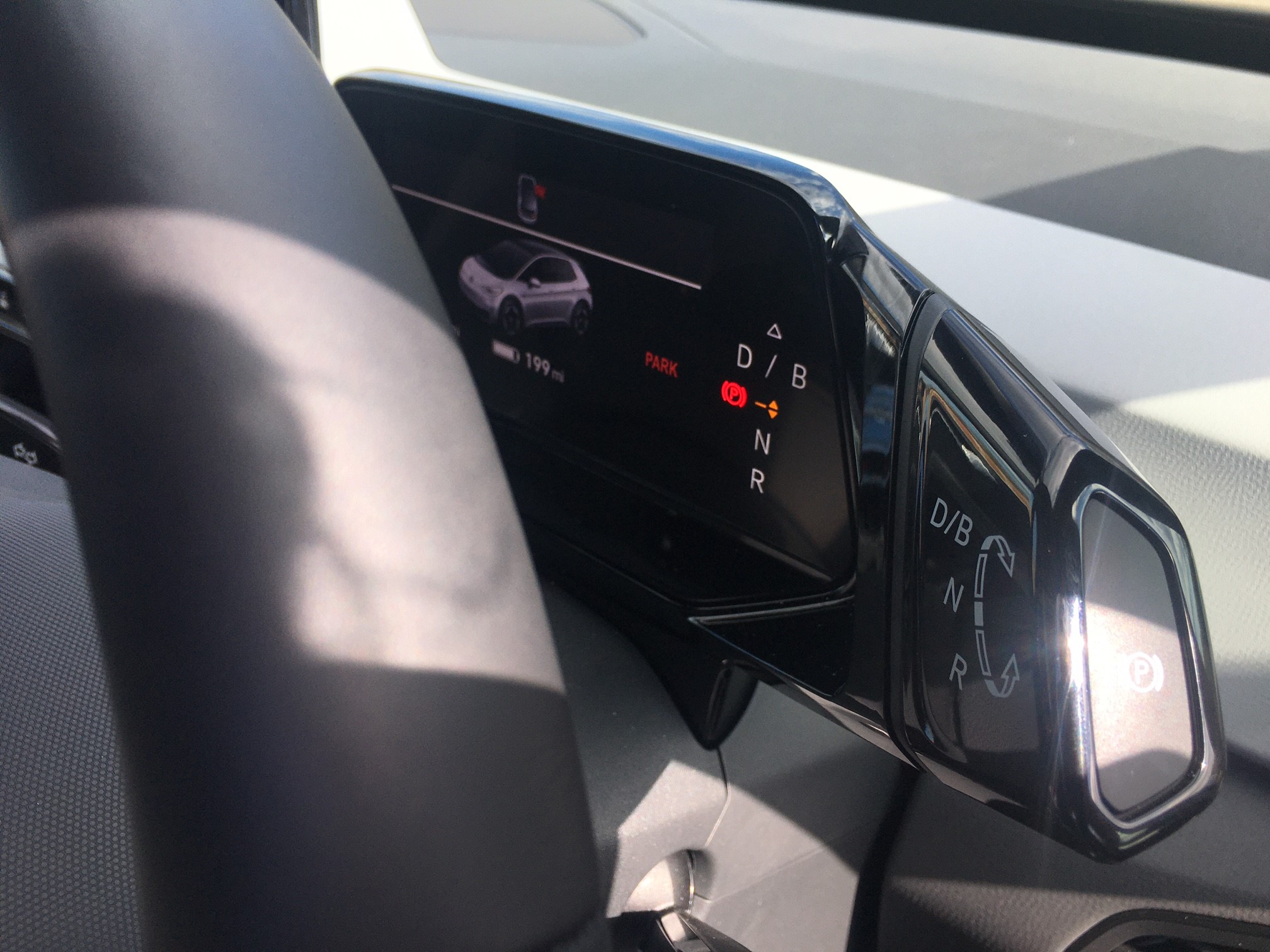 Share to:
ROAD TESTER PROFILE
Name: Aaron Cawrey
Role: Vehicle Purchasing Manager
Model tested: Volkswagen ID.3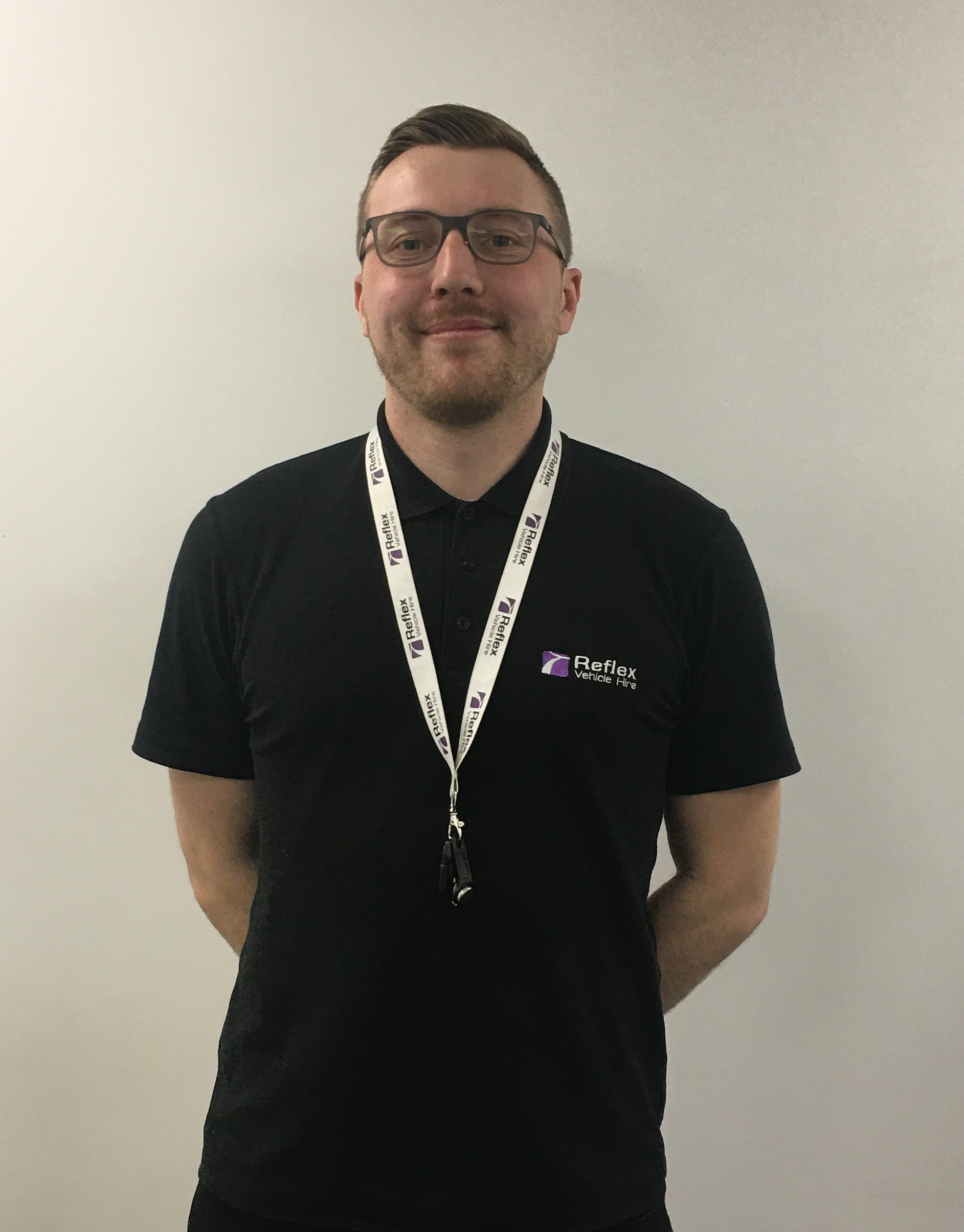 Find out more
Find out how Reflex Vehicle Hire can help your company.
Call 0330 460 9913 or visit our contact us page.