Testing the Tesla Model 3 - the world's best-selling EV
Reflex road testers Martin Tyers, Head of Fleet, and Steven Crofts, Head of Operations, find the Tesla Model 3 is a great car, but it also has its flaws
---
FACT FILE
Brand: Tesla
Model: Model 3 Long Range
Fuel: Electric
0-62 (secs): 4.2
Range (miles): 360
Battery (kWh): 70
Want to drive this car? Contact the Reflex Vehicle Hire team!
Overview
The Tesla Model 3 is the car that has introduced the iconic brand to the mass market, securing 365,000 sales globally last year to make it the world's best-selling EV. Its launch marked a key stage in model development at Tesla, as Elon Musk finally got to spell the word 'S3XY' with his range (the Model E name belongs to Ford), which now encompasses the Model S luxury saloon, Model X SUV, and Model Y, a hatchback version of the Model 3. Still to come is the Cybertruck, a futuristic pick-up and Tesla Semi, an all-electric lorry.


Exterior
The styling of the Tesla Model 3 tends to split opinion. It certainly looks different to anything else on the road, but still manages to be subtle. So, it can be both sleek and sophisticated or bland, depending on your perspective. Our car came in Midnight Silver, but other colours may bring out its best features; Pearl White seems most popular on the roads, but red or deep blue seem to suit it well. 18-inch Aero wheels are standard on the Model 3, but you can upgrade to more traditional-looking 19-inch alloys if required.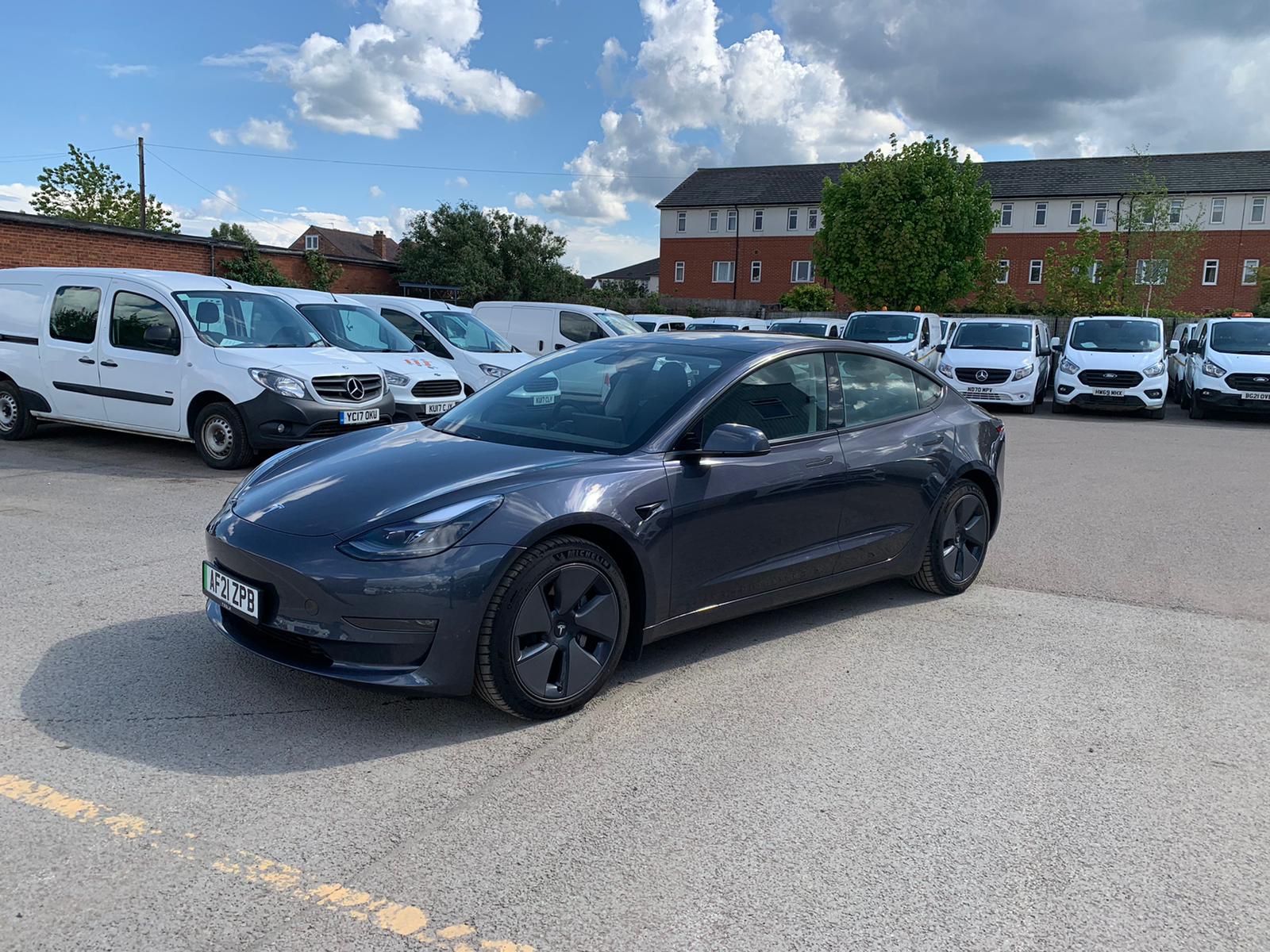 Interior
There is one word to describe the interior of the Model 3 - minimalist. There are no instruments in front of the driver, just a steering wheel with a couple of small buttons, which are the only ones you will see. Everything else is controlled from the large screen that dominates the cabin and controls all the car's functions, including airflow from the small channel that runs across the dashboard. If you like touchpad controls, it is great, but some will sorely miss simple buttons for regularly used options, such as heating controls, while it creates irritating quirks, such as needing to use the screen or voice control to open the glove box.
The driving position is very comfortable, the seats are supportive and there are lots of cubby holes for items including mobile phones. Tesla also seems to have improved build quality compared to earlier versions.
Our model featured wood effect trim, which seems to clash with the futuristic theme flowing through the rest of the car.
Practicality
This is a compact executive car, so for more flexible family use, the Model Y hatchback may be a better option. Even so, there is still good luggage space because you have two storage areas - the traditional boot at the back and a 'froot' where an engine would be in a petrol or diesel car. Neat touches include an automatic boot lid.
Opening the boot reveals a rectangular rear opening that can be a challenge when loading larger items, but the space itself is deep and will take a couple of suitcases or a pram easily, while the rear seats split and fold for longer items. Under the floor there is storage space for charging cables if you do not keep them in the 'froot'.
For electronic equipment, there are four USB ports and docking for two smartphones; there are also lots of cubby holes for odds and ends. The Model 3 also comes with a heat pump, which can cool or heat the car more effectively and is a welcome feature.
A full-length glass roof comes as standard and lets plenty of light into the interior, but some taller passengers may find rear headroom is restricted.
Driving
The Tesla Model 3 Long Range delivers fantastic performance and acceleration. It is possible to reach 60mph in just over four seconds, although the tyres and passengers may not thank you. You can change power settings to be more sedate, which also stretches the range and protects your licence.
The low centre of gravity from the battery keeps the car flat in corners while the ride is comfortable and nearly silent for a very relaxing drive.
The Model 3 is packed with safety aids that can monitor the environment for risks and there is also the option to add 'Enhanced Autopilot', which can automatically change lanes, accelerate, brake and park. Its party trick is 'Summon Mode', where the owner can use an app to instruct the car to drive a short distance to them on its own – which is useful when trying to access the car in a tight parking space.
The model tested offers an official range of 360 miles, which independent guides suggest is more like 285 miles of real-world range. Charging is straightforward, especially if you are close to the network of 500 Tesla Superchargers in the UK, which can take the Model 3 from 10-80% in around half an hour. Topping up using a public rapid charger on the motorway will take around 70 minutes, while it will take up to 13 hours to get the same charge when plugging into a wallbox at home.
Technology
The screen is the focus of attention in all Teslas as it is the hub through which everything in the car is controlled, from air vents to opening the charging port.
This takes a bit of getting used to, especially as a button would be quicker in some cases, but during long-term ownership it will become second nature, especially as voice controls can speed things up to avoid working through layers of menus.
The 15-inch touchscreen is mounted in landscape format and offers pin sharp graphics and a well-designed interface.
Tesla delights in adding 'Easter eggs' to its cars, so the screen can be used to play computer games when parked, and set up pranks, such as the infamous 'fart mode', an 'emissions test' which can be played on demand, with sound directed to a specific seat.
Tesla also provides 'over the air' updates to its cars, providing added value functionality and features that enhance the ownership experience.
This includes updates to the car's autonomous driving capabilities if these have been enabled. Autopilot enables the car to steer, accelerate and brake automatically within its lane, while all Tesla's have the hardware needed to eventually allow for full self-driving capability, which the company argues is at least twice as good as the average human driver.
Summary
The Tesla Model 3 is a great car and clearly a leader in its field, but it will split opinion, both for its looks and for its minimalist interior (and wood trim). However, it is certain that the Model 3 is driving a new era of electric motoring for hundreds of thousands of drivers around the world and we can expect to see many more of them on UK roads in the next few years.
Reflex Rating
7/10
For details on the wealth of vehicles available on flexible terms from Reflex Vehicle Hire, review our Vehicle Selection page or contact one of our expert team members.

Share to:
ROAD TESTER PROFILES
Name: Steven Crofts
Role: Head of Operations
Motoring likes: Countryside A-roads
Motoring dislikes: Middle lane hoggers on motorways
Dream car: Aston Martin DBX
Model tested: Tesla Model 3 Long Range

Name: Martin Tyers
Role: Head of Fleet
Motoring likes: Open country roads
Motoring dislikes: Middle lane hoggers on motorways
Dream car: Dodge Durango SRT Hellcat
Model tested: Tesla Model 3 Long Range

Find out more
Find out how Reflex Vehicle Hire can help your company.
Call 0330 460 9913 or visit our contact us page.