Mercedes-Benz eVito delivers emission-free journeys for urban fleets
The Mercedes-Benz eVito is designed to offer van fleets a zero-emission alternative to diesel. We asked a customer to see how it performed during a typical day on the road
---
Contract logistics specialist Global Service Group (GSG) is the partner that delivers every time for a wide range of business customers each day.
With vehicles at the heart of its operations, efficiency, reliability and safety are essential elements when reviewing options for the fleet, so it provided the perfect candidate to test a key contender in the electric commercial vehicle market – the Mercedes-Benz eVito.
GSG already has experience of operating electric vehicles, with a Renault Kangoo and Tesla Model 3 on fleet, so how did the Mercedes-Benz compare?
Nathan Jones, Contract Manager of GSG, said:
"The driver who tested it loved it and asked if it was still available. He loved the comfort and how quiet it was. It was very relaxing to drive in urban areas, especially as it is automatic. He couldn't find fault with it."
The eVito has been designed specifically for an urban environment, so it favours payload ahead of range.
Its 41kWh batteries recharge in a maximum of six hours using a standard wall charger and can carry around 900kg depending on configuration. This delivers a predicted 93 miles range.
"The accuracy of the predicted range was impressive,"
Nathan said.
"It arrived with 60% charge, then went out for a couple of hours and was recharged at the office. It added around 20-30 miles per hour."
The range and charging speed (fast charging is not an option currently) suits an urban environment, where vans make multiple drops every hour and cover shorter distances than vehicles travelling between cities and towns.
Most importantly, the load bay remains unaffected by the change in drivetrain.
To maximise range, the EV can be limited to 50mph, although this can be set to higher speeds if required at the touch of a button.
The eVito comes with a three-year unlimited mileage vehicle warranty, while the battery is covered for eight years and 100,000km. Mercedes-Benz indicates that after eight years, the battery should retain at least 70% of its capacity.
In the cabin, there is little to differentiate the eVito from a standard Vito, although as an automatic the gear selector is mounted on the steering column, while Mercedes-Benz traits remain, such as the floor-mounted parking brake.
On the road, the low-down weight of the batteries keeps the van level around corners and it always provides enough power when pulling away from lights to keep up with urban traffic.
Nathan added:
"It performed just like a diesel really, with the benefit of a much quieter ride."
GSG is planning to introduce a greater number of electric vehicles onto the fleet in the coming years, which requires further innovation from manufacturers, including the roll out of refrigerated EVs.
After discussions with more than 40 customers around the world, Mercedes-Benz recently introduced a refrigerated version of the eVito, developed in partnership with Kerstner.
Nathan said:
"Our fleet is really varied, with some vehicles covering hundreds of miles a day and others requiring refrigeration. The technology is not quite there yet, but EVs have a role to play across several of our contracts in urban areas, particularly to prevent congestion charging costs and reduce pollution levels.

It is a changing market. I estimate that in a few years, half our fleet will be electric vehicles."
Currently GSG runs around 160 commercial vehicles and 10 cars in its work supporting customers including the NHS, Amazon, and Thames Water from depots throughout the country.
To learn more about the Mercedes-Benz eVito and its potential future on your fleet, contact a member of the Reflex Vehicle Hire team.
You can also review all the vehicles on our fleet in our Vehicle Selection section.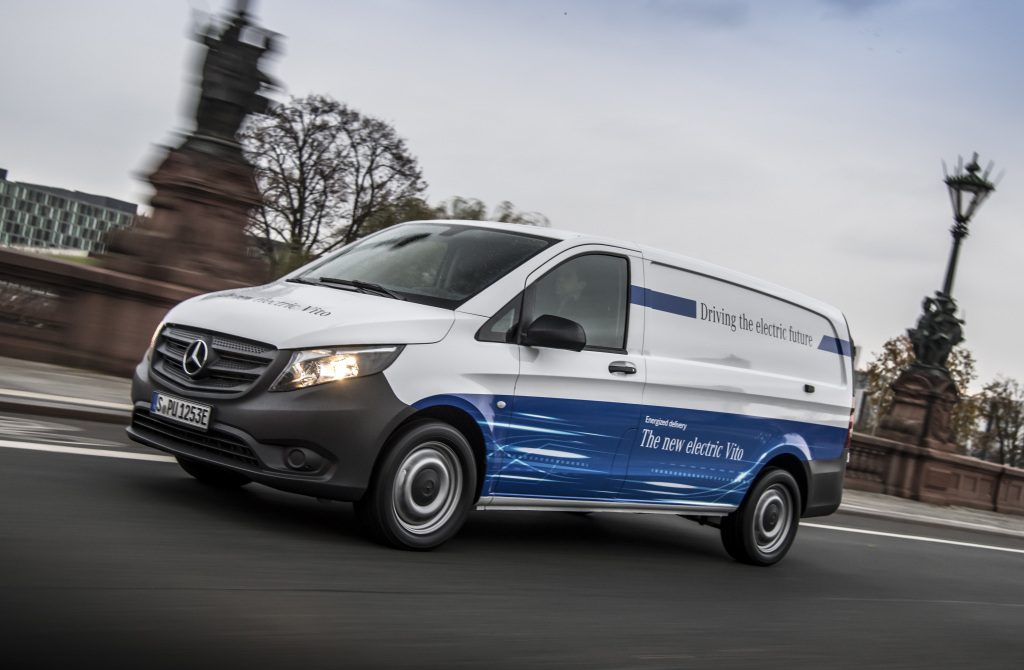 Share to:
Find out more
Find out how Reflex Vehicle Hire can help your company.
Call 0330 460 9913 or visit our contact us page.