Twizy puts a new twist on zero-emission motoring
Urban transport is changing, as more cities close streets to traffic or restrict access to improve air quality for residents. As part of our wide-ranging road test programme, we put Renault's Zoe and the tiny Twizy to the test to find out how they can help
---
Transport is changing. Latest new car sales figures show that alternative fuels are now outselling diesel, while the government's plans to outlaw all new petrol and diesel vehicles in just over a decade are focusing the minds of fleet managers.
Reflex Vehicle Hire tests a wide range of new cars and vans each year to find the best fit-for-purpose models and that includes electric vehicles as we help our customers to prepare their zero-emission strategies.
We recently tested a range of zero-emission cars from Renault.
The first was the award-winning new Zoe, the brand's all-electric supermini that was recently named What Car? Small Electric Car of the Year 2020.
The updated Zoe has an upgraded interior and a much bigger range than the outgoing model, with real-world tests achieving more than 200 miles from its larger battery. There is also an all-new Renault Zoe electric van.
These vehicles can play a key role in fleets, particularly in urban areas, where many cities are considering restrictions on internal combustion-engined vehicles.
But Renault has also considered the future shape of transport with the Twizy, the second EV we tested.
It may look different, but it can play a valuable role in certain applications, so it is worth considering, despite the outlandish looks.
It is the smallest vehicle this side of a motorbike (it is classed as a quadricycle) which makes easy work of urban traffic.
Front-end costs are kept down (its starting price is less than £11,000) because of its frugal equipment, (even doors are an extra - a highly recommended investment), while it costs a pittance to run.
A full charge is about £1 and there is no vehicle tax or congestion charge to worry about. For each charge, you get a claimed 62 miles of range and a top speed of 50mph, with low-speed acceleration similar to a scooter.
You also get serious environmental savings. As a runabout transporting a staff member between two sites in town, we calculated that it could reduce CO2 emissions by 100kgs a year, which is equivalent to almost a quarter of the Twizy's weight.
You also slash fuel costs, saving 10-12p a mile compared to a small petrol or diesel vehicle. Servicing costs are minimal (there is hardly anything to go wrong) and they barely seem to depreciate, judging by pricing for used models.
You could be tempted by admittedly better, bigger rivals, such as the Zoe or Smart Fortwo, Volkswagen e-Up and a growing range of other small electric alternatives, but the Twizy is less than half the price and twice the fun - if you stick to urban roads.
Renault Zoe
Smart Fortwo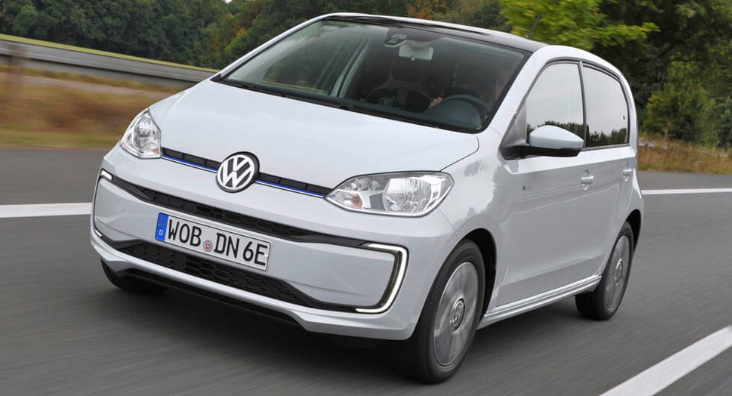 Volkswagen e-Up
Until recently, there was the added attraction of the Twizy Cargo, which swapped the rear passenger seat for a 180-litre boot with a lockable rear door and 75kgs of cargo carrying capacity, but that has proven a niche too far and it has disappeared from Renault's choice lists this year, (they occasionally pop up in the used vehicle market).
Aaron Cawrey, Vehicle Purchasing Manager at Reflex Vehicle Hire, said:
"The Renault Zoe is an extremely capable electric vehicle with great real-world range, while the Twizy scratches the itch of curiosity about potential uses of different electric vehicles.

"Companies are having to think differently about transport in the current environment, with many staff working from home or switching to electric bikes for commuting. The Twizy bridges the gap between a vehicle and a bike at a very cost-effective price point. It is a niche transport solution, but one that may be worth considering in the right circumstances."
To see the full range of vehicles that Reflex Vehicle Hire currently has on offer, visit our Vehicle Hire section.
Share to:
Find out more
Find out how Reflex Vehicle Hire can help your company.
Call 0330 460 9913 or visit our contact us page.