Reflex racking experts provide shelf improvement guidance
Reflex Vehicle Hire can support customers with advice and guidance on the best vehicle racking solutions, featuring the latest innovations and designs, to suit individual business needs
---
Vehicle racking plays a vital role in turning a vehicle into a safe, efficient workplace.
Using modern materials and design, fleets can adapt their vehicles to enhance the working environment of drivers, with equipment and tool storage that is intuitive and well designed.
Driver input is important at the earliest stages of design, where their detailed knowledge of potential improvements can be used to guide development.
The use of modern materials maximises flexibility while minimising weight, so that vehicle payload is not compromised.
When it comes to racking, the team at Reflex Vehicle Hire are the shelf improvement experts. Our team has a wealth of knowledge so they can advise and support customers, while our suppliers provide the highest levels of expertise.
Michael Brooks, Owner of Complete Vehicle Accessories, has developed hundreds of interiors for Reflex Vehicle Hire customers since launching his business in 2013.
He said:
"The Reflex Vehicle Hire team are very knowledgeable and they can often identify what customers need and work with us on a solution, but they also consult with us on bespoke designs."
Once customers have a clear idea of their requirements, Reflex and CVA can use this information to provide ideas and solutions, including digital designs of vans with the racking in place, so customers can test it in a virtual environment.
The sturdy systems use spaceframe technology to minimise weight while maximising strength, backed by extensive crash testing to ensure vehicle occupants are protected in the event of an incident.
Innovations include split interior space, with one section for dirty work tools that have been used during the day, while a separate area houses other equipment to keep it clean.
High quality construction means that racking can continue to be used once a vehicle is sold, or it can be deployed in another new vehicle for a second fleet cycle to reduce costs.
Brooks said:
"There is a lot of innovation in the vehicle racking sector that allows fleet operators to ensure their vans meet their exact requirements."
Vehicle racking is just one element of CVA's services, which include additional equipment such as beacons, towbars and enhanced van security.
Lisa Spong, Reflex Vehicle Hire Sales Director, said:
"As part of our award-winning service, we make sure that every element of our fleet is industry leading, and that includes additional equipment such as racking. Our range of additional services enhance our flexible vehicle hire offering, meaning that customers receive unrivalled levels of innovation, customer service and support."
To learn more about the range of added-value services offered by Reflex Vehicle Hire, visit Book a Vehicle or speak to one of our team of experts.
Take a look below at our recent personalised 3 tier metal racking system that can be branded for your business.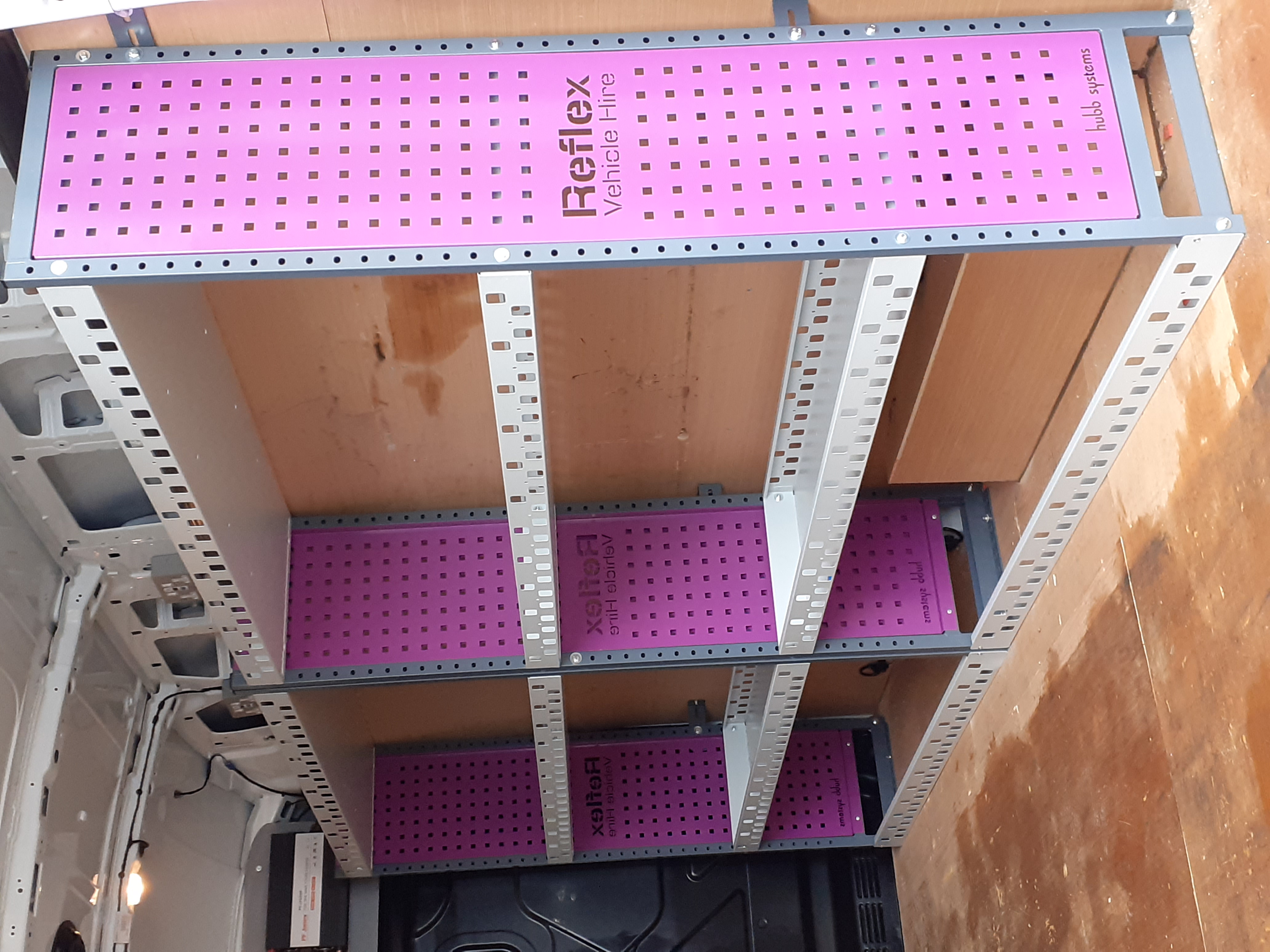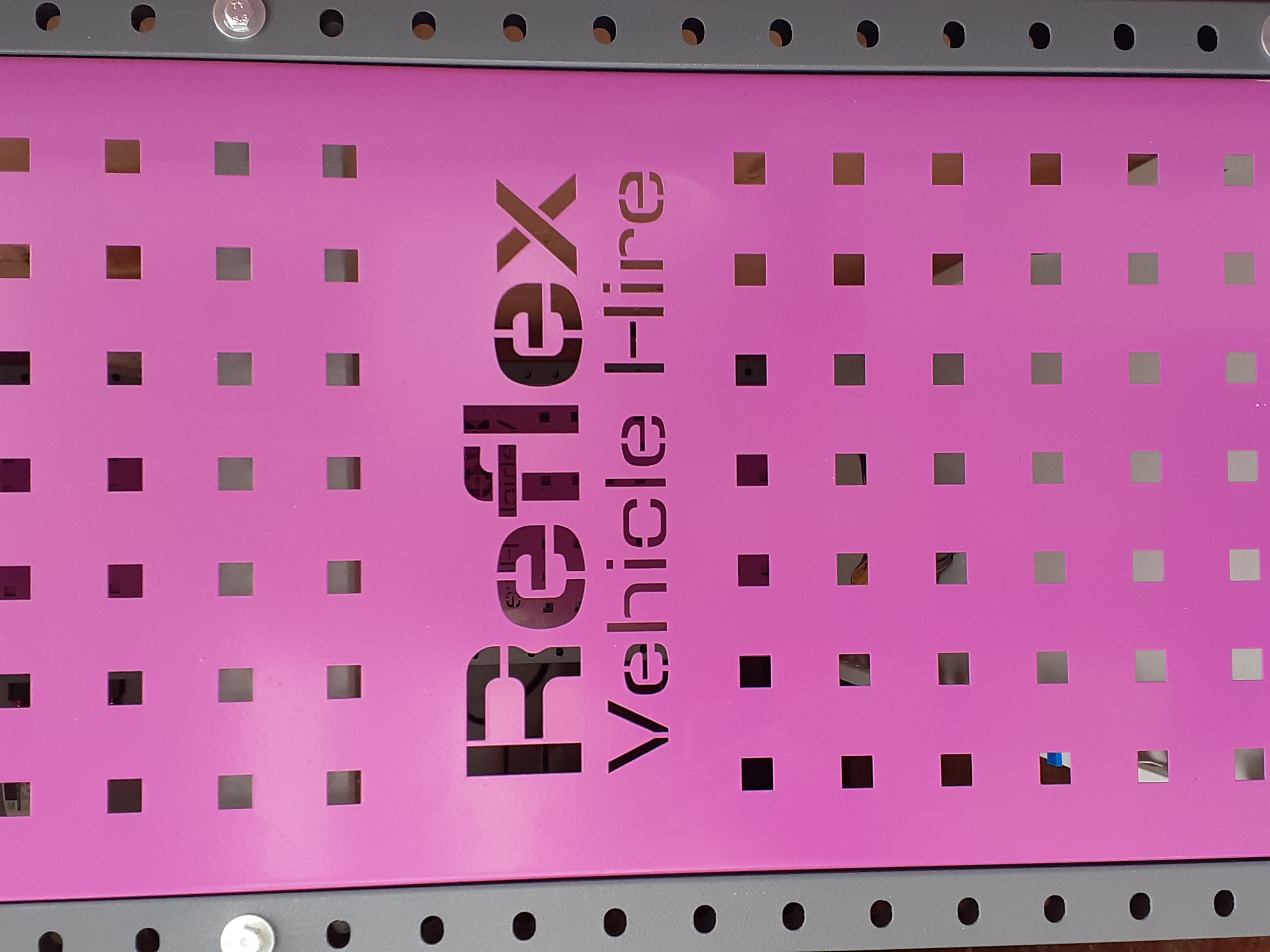 Share to:
Find out more
Find out how Reflex Vehicle Hire can help your company.
Call 0345 609 2345 or visit our contact us page.