Volkswagen Golf gets high tech makeover for latest generation
The Volkswagen Golf may be 46 years old this year, but the latest edition has been brought bang up to date with a major digital overhaul
---
1974 was a year of firsts that became embedded in the modern world. The barcode was introduced for the first time, Post-It notes were developed, Ernő Rubik revealed his iconic Cube and Henry Heimlich perfected the manoeuvre that has saved countless mealtime lives.
It was also a landmark year in automotive history as the original Volkswagen Golf was revealed as a replacement for its wartime predecessor, the Beetle.
Eight generations later, the Golf is nearing its 50th birthday, but with every update, it manages to look fresh and modern while still keeping its iconic shape.
The updated model is a major step forward for Volkswagen as it embraces the digital revolution, adopting concepts familiar to smartphone users with a reworked interior awash with touchscreen technology that does away with most physical buttons and dials.
The driver gets a screen instead of an instrument cluster, which can be controlled from the steering wheel to bring up a wealth of data to personalise the driving experience.
In the centre console, there is another screen that provides an infotainment hub, where everything drivers and passengers need can be managed, including a choice of ambient lighting schemes.
You can shortcut to important functions using touch sensitive buttons on the dashboard and by the door, such as temperature and demist functions, but it's a steep learning curve for new users until you get used to it – sort of like moving from a Nokia 3110 to a new iPhone.
If you once rode a Raleigh Chopper or remember the taste of Spangles, then you might miss the reassuring click of a button or turn of a dependable dial.
Simple things such as using the radio can also be fiddly, but the new Golf does have often-overlooked voice control technology, which can take a bit of getting used to unless you are a regular Siri or Alexa user. Alternatively, it comes with Apple CarPlay and Android Auto, allowing you to turn the car into a giant smartphone and listen to your own music instead.
The rare niggles are forgotten as you experience the car's strengths that have made it the king of company cars for decades.
The redesign prepares the Golf for life on the road in the 2020s and its legendary build quality remains, including robust German seating that may disagree with some on longer journeys, although this is helped by suspension updates, which improve ride comfort, while aerodynamic tweaks keep the cabin quiet.
Volkswagen engineering shines through in the Golf. Our 1.5 eTSI 150PS petrol mild hybrid delivered an impressive performance through its dual-clutch DSG gearbox that remains the best on the road, delivering rapid automated gearchanges without any loss of power or fuel economy.
With seven-speeds to choose from, it is flexible too and is rarely left hunting for the right gear, while it can dispatch 0-60mph in around eight seconds.
We achieved 50mpg during mixed driving, which is close to the claimed 54.3mpg for our test model, while CO2 emissions are competitive at 118g/km thanks to a mild hybrid system that can shut off the engine for short periods to save fuel, or help the engine during acceleration.
Road tester Eric Duguid, Reflex Vehicle Hire Purchasing Administrator, said:
"The new Golf was a pleasure to drive, with good handling and really smooth gearchanges from the DSG transmission.

Although there are some niggles with the new digital interior, overall it is well worth considering for fleet operators.

It is a very strong contender, but it has to be because the competition is so good, ranging from the Ford Focus to premium rivals from Audi, BMW and Mercedes-Benz. Drivers are spoiled for choice."
To see the full range of vehicles on offer from Reflex Vehicle Hire, visit our Vehicle Hire section.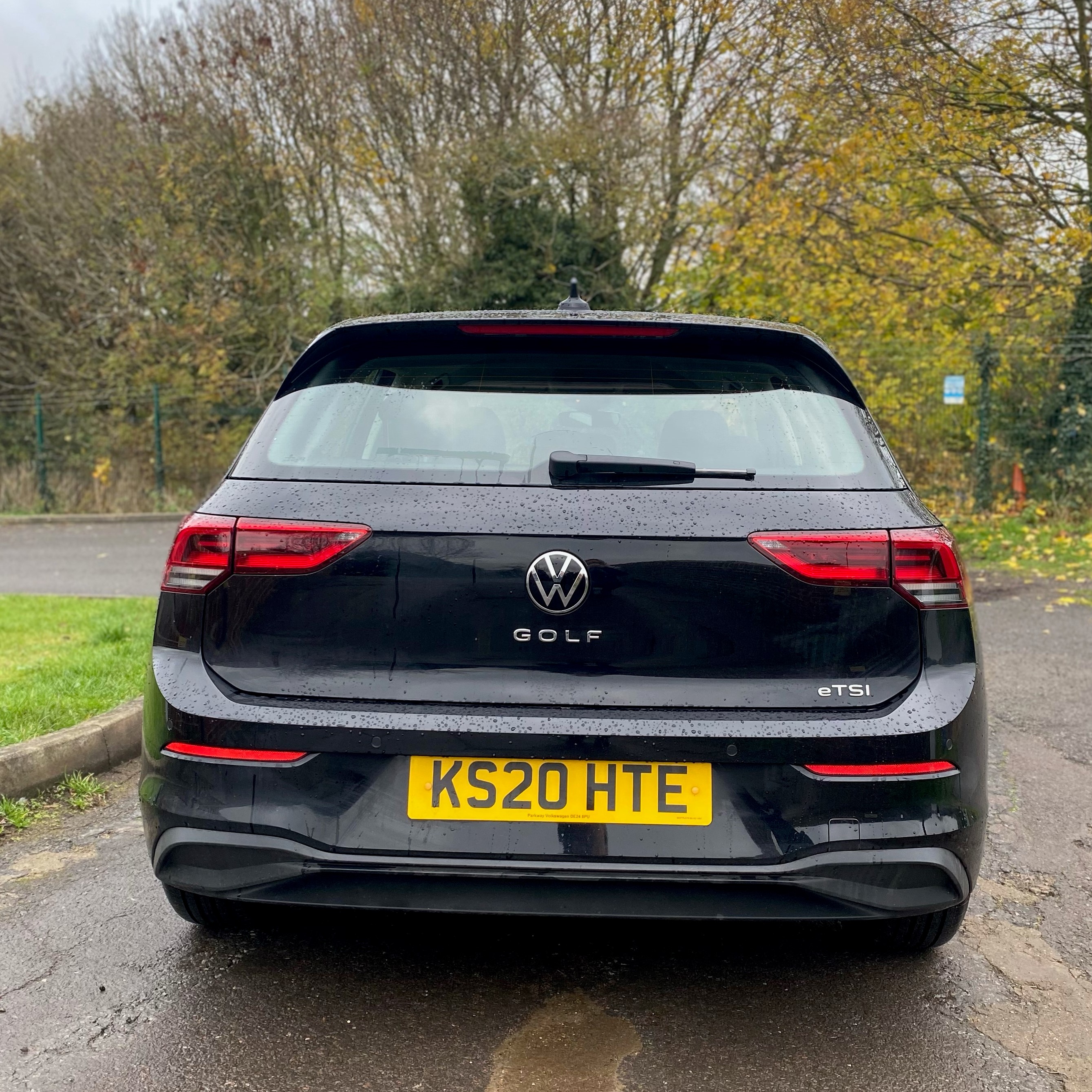 Share to:
ROAD TEST PROFILE
Name: Eric Duguid
Role: Fleet Purchasing
Likes: Open roads
Dislikes: Unrealistic Fuel/Charge ranges
Find out more
Find out how Reflex Vehicle Hire can help your company.
Call 0330 460 9913 or visit our contact us page.